It's been a while since I have updated my beauty routines and it's simply because not a lot had changed until of course Harmattan came along. I tried to streamline my regimen and whittle down my products but of course being the product junkie I am, I only received a haul of new Missha goodies so they had to get in where they could fit in! Anyhoo, Harmattan is I guess West Africa's version of winter. The dust rises and gets in your eyes, your ears, your face, the cool breeze is not necessarily unwelcome but does mean you need to ensure that your skin is adequately moisturised to make sure your skin retains that healthy, dewy glow to it. So without further ado, here is my Harmattan night time beauty routine: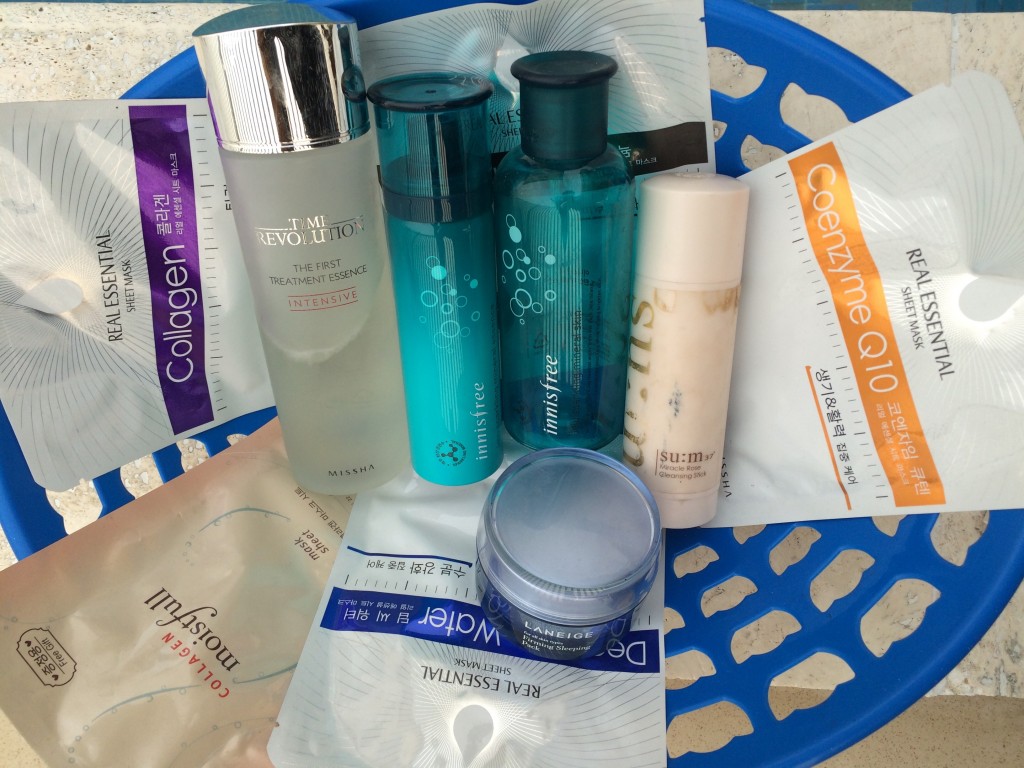 1. Cleanse – I remove my makeup (if I am wearing any) with cleansing wipes
2. Double cleanse – with Sum:37 Miracle Rose Cleansing Stick
3. Tone – Innisfree Jeju Sparkling Mineral Skin – this stuff is actually magical. It cannot be real, it is so wonderful for my skin. It is without doubt the best toner I have ever used to date (sorry Missha First Time Treatment Essence – you have been toppled from your G.O.A.T. status). I saw an ad for a new Innisfree line of skincare products and my inner PJ was doing cartwheels and split leaps in anticipation so I thought I would give it a whirl. Oh. My. Days. This stuff. Seriously. Love. Using this product consistently has greatly improved my skin, gone a long way in dealing with my hyperpigmentation issues and generally done a wonderful job of restoring a glow to my skin. When I first got to Lagos, I experienced all sorts of breakouts, I guess due to the change in temperature and environment. I also found that the heat was so intense I could not continue with all the various moisturising steps in my routine so for a while it was just this Toner I was using after cleansing. And yet, it worked and worked wonders. So yep. This is one praise train I won't be disembarking from…well until there is a change in formula or someone introduces me to an even better product.
Having said all that, my back up toner (once the above finishes and I stop weeping in despair) is the Missha Time Revolution First Treatment Essence Intensive. This is an improved formula on the already formidable Missha Time Revolution First Treatment Essence. It is a really good product, second only to the Innisfree Sparkling Mineral Skin. I have been using it on and off (in an effort to preserve the little ISMS that's left) and I really liked it. No complaints from me on this one; it's a keeper!
4. Essence/Serum –Innisfree Jeju Sparkling Essence – I quite like this essence. It comes out as a foam and I just use a little amount all over my face. This essence has really helped me with my acne issues when I have used it consistently. Problem is, I don't like the sticky feeling it leaves me with on my face, but for the results it gives, bring on the stickiness!!
4.5 Sheet Mask (an occasional and very new step!) This is a step I would take straight after using the Toner and if I was not going down the Essence route. To be honest I will never claim to be an authority on sheet masks and I am only just starting to understand their value to the Korean skincare regimen. I've tried using a sheet mask a couple of times now and wow (Etude House Collagen Moistfull Sheet Mask), the difference it makes to one's skin is amazing. Basically, you put it on your cleansed and toned face and leave it for about 15-20 minutes, after which, you remove it and gently massage the excess cream into your skin, almost like a sleeping mask. The first time I used this, the next morning I felt like singing that Mya song for my skin because it really felt "like whoa!" I will keep this step up and keep you posted on how it goes.
5. Sleeping Mask – my standard products and loves are Laneige Firming Sleeping Mask and Etude House Collagen. My skin always feels so soft and luxurious the following morning, it's such a wonderful feeling. I should really use the sleeping masks more often considering what great results I get from them but I am so lazy, I probably remember like once or twice a month, if that *covers head in shame*. 2016 – must do better!
5.5 Final step – Eye cream. When I remember (which really is not often!), I use Etude House Collagen Eye Cream. I don't doubt that there are benefits to using eye cream, I just don't use it consistently enough to see them so I will try and start again and do better. Let's see how it goes!