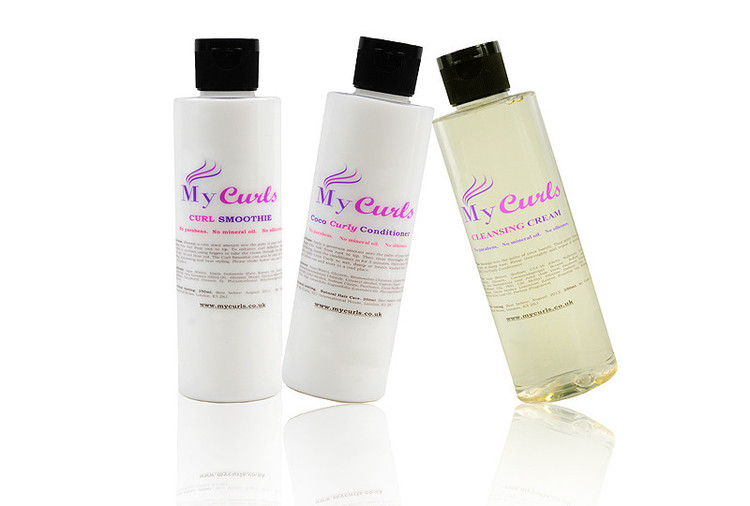 I am super excited to give you my review on the My Curls Cleansing Cream and My Curls Coco Curly Conditioner. This review has been a long time coming – basically I have been using and loving the products but took a while to get round to putting the review down.
My Curls is a London-based hair company specialising in creating natural hair products for women with textured hair. At the heart of the business is a mission to empower and encourage women from all ethnicities and walks of life to love and embrace their tresses. I have a lot of love and admiration for Victoria Olubi, the founder of My Curls. In addition to being one of The Maserati 100, she was selected as the winner of the 2014 Eight Women Awards which recognises the UK's most influential and inspirational women of colour and was also a finalist at 2014 The Guardian's small business showcase awards for her success in growing her business. With all this in mind, I was psyched to receive these products for review. Without further ado, let's get into it!
My Curls Cleansing Cream
Ingredients: Water, Olefin Sulfonate, Coconut Oil, Glycerin, Aloe Vera leaf juice, Panthenol, Sunflower Oil, Citric Acid, Tea Tree Essential Oil, Lemon Essential Oil, Parfum, Parabens Free Preservative.
The blurb:
"a nourishing shampoo that removes dirt without stripping the hair of its natural oils."
To start off, I finger detangled my hair before sectioning into two big buns. I rinsed through the first section and then applied the cleansing cream. This cleanser was something of a surprise to me – I am used to shampoos and cleansers that have thicker textures whereas this was quite runny and watery so be careful so the product does not slip through your fingers, literally!
Looking at the product's ingredients is like a naturalista's dream, and here are some ingredients I took particular note of:
Coconut oil which is like the holy grail of hair oils – prevents hair loss; a penetrative hair oil so good for treatments and moisturising and hydrating hair due to its moisture retention qualities; a good anti-dandruff agent; strengthens hair follicles and helps minimise split ends.
Aloe Vera juice which is known to promote hair growth, reduce dandruff, promote hair shine and has moisturising qualities.
Tea Tree Essential Oil which reduces dandruff and stimulates increased blood flow which strengthens the hair follicles.
Lemon Essential Oil which is effective as a hair tonic, eliminating dandruff and strengthening hair.
My dream cleanser is one that is easy to use, cost-efficient and cleanses my hair without leaving it stripped and "squeaky" clean. This cleanser should definitely be considered as a contender for the job. It is a lovely gentle cleanser that does its work. I was really pleased with how effective it was at cleansing my hair thoroughly without stripping of its natural oils. It's a cost-efficient product – although the directions for use say "apply generously", I actually found that a little goes a long way. The smell is lush too! It does not foam up a lot (though maybe my hair was just that dirty ha!) but on my second application, it did foam up more. I was really pleased with the results which set me up for the next step – the Coco Curly Conditioner.
Final thoughts – Effective and cost-efficient cleanser that smells lush and does not strip your hair of its naturals oils. #winning
My Curls Coco Curly Conditioner
Ingredients: Water, Glycerin, Jojoba Seed Oil, Cetyltrimethylammonium Chloride, Cetearyl Alcohol, Coconut Oil, Sodium Citrate, Panthenol, Lavender Essential Oil, Preservative (parabens free), Parfum.
The blurb:
"a coconut oil based conditioner that makes detangling incredibly easy."
I'll start off by saying this – conditioners are generally my favourite step in my hair regimen, so if a conditioner can win my hair, it's a good'un.
After thoroughly rinsing out the cleanser, I applied a generous amount of the conditioner to each section of my hair and let it marinate under a shower cap, before detangling with a wide tooth comb and then rinsing it out.
The make up of the conditioner is nothing to sniff at:
Coconut oil – see above comments.
Jojoba seed oil whose anti bacterial properties make it a useful anti-dandruff agent; also a penetrative hair oil so great for hydrating and moisturising hair; helps add shine, elasticity and softness to hair; can be used to stimulate hair growth.
Lavender essential oil which is helpful in the treatment of hair loss and scientific studies have shown that it stimulates hair growth.
I loved this product. It's amazing. The slip it gave my hair and the ease with which I was able to detangle my hair was awesome. I mean, my comb practically glided through my hair at one stage, I was loving it! It conditioned my hair superbly; as I applied it to my hair, I felt like it had an almost immediate effect of softening my hair and preparing it for the styling process. I really wanted to leave it in, I was loathe to rinse it out, that's how much I love it. Even after grudgingly rinsing the conditioner out of my hair, my hair remained soft, detangled and ready for styling. Amazing!
Final thoughts – Great conditioner that gives a lot of slip, makes the detangling process a dream and leaves your hair soft, shiny and ready for styling action. Thumbs up from me!
*I received free samples for this review. Please note that I did not receive any compensation for this review and the opinions expressed in this post are mine and no-one else's.
Have you tried any of the above products? What was your experience? Share in the comments below!