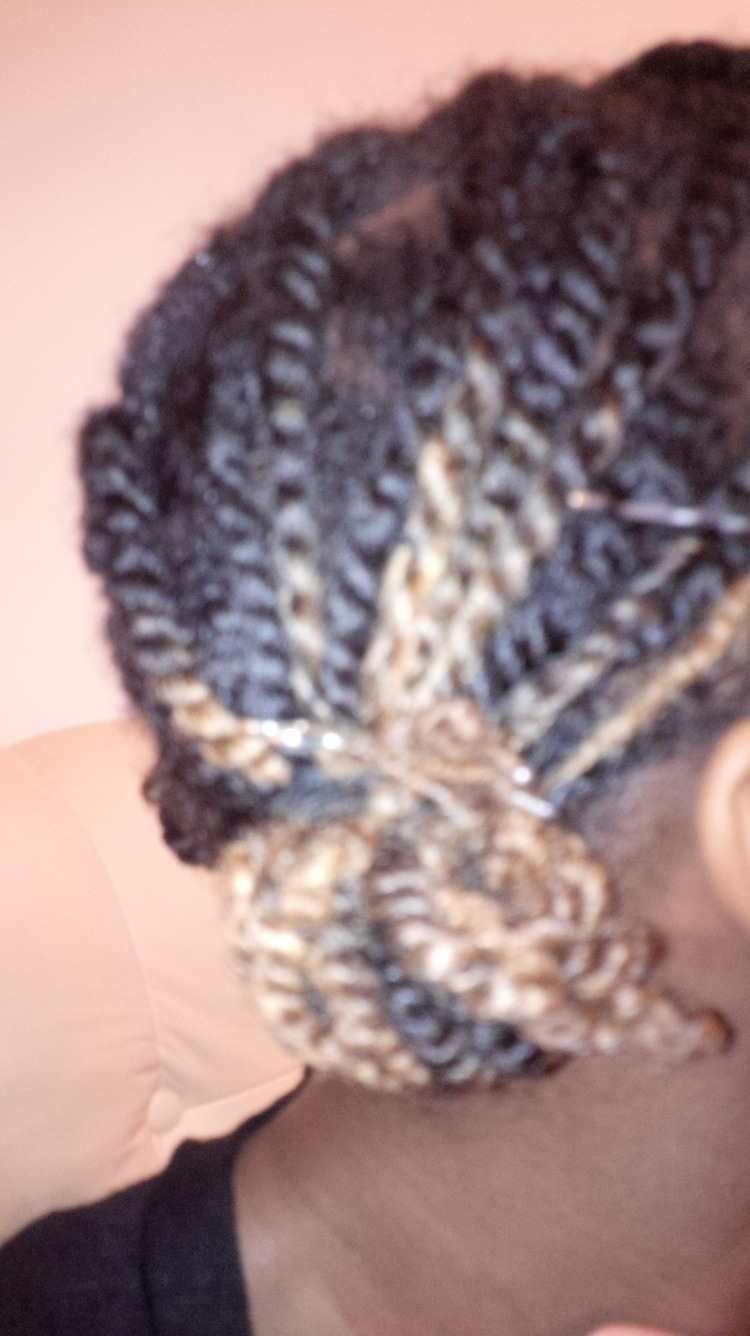 Hi guys
I mentioned in my last post that I am trying to focus on growth and protecting my ends. Well here is the back story:
This time last year I got highlights in my hair and I absolutely loved it. However, a year on, my hair has undoubtedly grown (because you can see from my roots to where the highlights start) BUT I feel like Grace should have grown a lot more. I don't feel like I have retained a lot of the length from the last year, and following a trim/cut whilst in ATL as a result of damaged ends, I am determined this year to achieve optimum hair health which surely will lead to more length retention.
As such, the plan is to wear Grace in more protective styles which means no more "out" styles –  twistouts, big fros – and more twists, Grecian braids, buns. I have set myself an initial four week challenge to see how well Grace fares from being tucked away for four weeks. I have completed one week thus far and we're in the second week of the challenge. Here is Grace's regimen for this week (treatment was administered on Sunday night):
Prepoo: Boots Fruit Essence Moisture Repair Conditioner
Shampoo: The Body Shop Ginger Anti-Dandruff Shampoo
Conditioner: Vatika Coconut Oil and Tresemme Naturals Nourishing Moisture Conditioner
Steam under Huetiful Steamer for 20 mins
Leave-in conditioner – mix of Vatika Coconut Oil, Argan Oil, Ogx Biotin and Collagen Lotion, Kinky Curly Knot Today and Giovanni Direct Leave in.
Style: Twisted Grace into about 40 medium-sized twists with Carol's Daughter Marguerite's Magic.
I've also been spraying my hair twice daily with Shea Moisture's Coconut & Hibiscus Moisture Mist and Ogx Keratin and Argan Oil spray.
Grace must grow, she just must! Let's see how she does over the next couple of weeks – if this protective styling works, Grace may have to remain in protective custody for her own good!
Till next time
Bids & Grace
Do you have any tips for length retention and protecting your ends? Feel free to share in the comments what has worked for you and any suggestions you may have for ensuring maximum length retention!