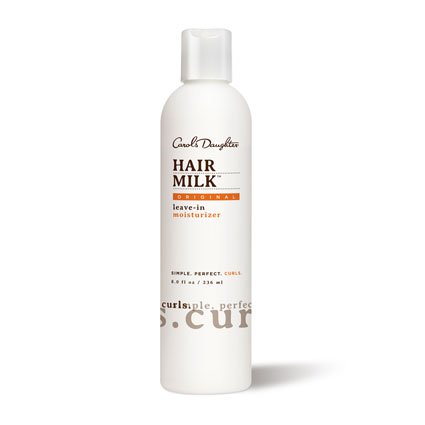 The blurb:
Dry hair = frizzy curls! So, protect your hair from frizz situations – breakage, thirst and unmanageability – with the Original Leave-In Moisturizer. It has all the goodies you know and love, like Cocoa and Shea Butters to intensely hydrate your hair, plus Soybean Oil to soften and strengthen it. We've also added Agave Nectar to ensure that your curls, coils, kinks and waves keep moisture locked in and are extra-healthy. Your hair will never get enough of this deep-moisturizing stuff. Hydrate your curls, coils, kinks and waves to make frizzy, unmanageable hair a thing of the past. Use Hair Milk Original Leave-In Moisturizer if you can never get enough moisture in your hair.
I had really high expectations when I asked my Mom to pick up a few bottles of the Hair Milk on her last trip to ATL. I was really excited when she arrived and I could not wait to try it out!
I went through my normal wash routine, sectioned and co-washed Grace with Tresemme Natural Nourishing Moisture Conditioner and then started to use the Hair Milk as a leave-in as directed.
I'll just come out and say it as it is – Grace and I are not feeling this product. It is not very moisturising for Grace's 4B curls, in fact, I felt compelled to overload on other products in order to compensate for the lack of moisture from using the Hair Milk. Also, I don't like the smell, it's a bit weird and doesn't really smell of anything but the smell is just not pleasing to my nose.
I don't doubt that it is a good product and works very well for other people, but I am certainly not convinced that this is a product for type 4 hair or at least for my hair. It is far too watery, and did not ease the detangling process at all. The lack of moisture from the product also meant I was constantly using more of other products than I would normally use which lead to product buildup. An epic fail.
I'm gutted because:
1. the ingredients list reads like a dream – it includes Soybean Oil, Cocoa and Shea Butters, Sweet Almond Oil and Jojoba Oil;
2. the reviews for the product have generally been very positive, particularly for type 4 hair; and
3. I asked my Mom to pick up a few bottles!
Ah well, you win some and lose some. I need to use the Hair Milk, so I've been using it with my Cantu Shea Butter Coconut Curling Cream (the latter is super moisturising) for the last couple of weeks. Now that Grace is braided up, I'm only really spraying and sealing her, and not using my leave-ins. But once the braids come out, I'll need to figure out what I will do with the Hair Milk, whether to make-do with it and mix it with something or do something else with it. We'll just have to wait and see. Maybe it's a sign I should get help for my product junkie-ism…maybe!
Till next time…
Bids & Grace