It's been a while since I did a product post and I decided to do a different type of post today. Normally, I do product reviews or talk about the products in my regimen, but this time I decided to do a post on the products I have recently finished/emptied. Will I repurchase? Do I love? Or thank goodness they're finished and I'm finally free? I will let you know all my thoughts, just keep reading.
Garnier Body Body Repair Anti-Dryness Restoring Lotion
Generally, I'm not that fussy when it comes to my body lotion. It just needs to do the job required – keep my skin moisturised for the day and stop my skin from making me look like a whitewalker. That said, it's actually been a bit of a chore finding a good enough moisturiser in Lagos that keeps my skin moisturised but does not fry it at the same time. When I was living in the UK, I used Dove Essential Nourishing Body Lotion which was the perfect moisturiser for my dry skin in the cold harsh winter. But here in Nigeria, it's simply too heavy a cream and I needed a cream that was much more lightweight but still did the job. Step forward Garnier Body. I think I bought this on a whim that clearly paid off and I'm just sad I didn't stock up more on it because it is such a great moisturiser. Honestly, truly…it's bae.
REPURCHASE? Definitely…the next time I'm in the UK.
I've always been a bit of a floozy when it comes to perfume. I am so fickle it does not make sense. I fall in love with perfume so easily – I will start using a perfume, swear it is the one for me and the only one, and then I receive another perfume and it's like the other is a thing of the past. I'm trying to be a reformed floozy but it's so hard to stay true and faithful to one perfume. If there was a list of perfumes to be faithful to, Coco by Chanel merits a spot on the list. It's a fragrance that gives vibes of timeless elegance and maturity but I had fears of it slightly ageing me. I mean Chanel No. 5 is an iconic fragrance but it conjures up images of an older refined lady. Refined, yes, but old.
REPURCHASE? Loved it whilst using it but I don't think I can stay faithful and I don't want the fragrance to age me so it's a no. I wanna try their new Gabrielle fragrance though…*such a floozy*
Missha Time Evolution The First Treatment Essence
You may recall my raving about this product (see HERE and HERE) when I first discovered Korean beauty and let me just say that my love has not diminished. It really is a great essence/toner, like fairy dust in a bottle that magically leaves your skin glowing and brighter. If you're new to Korean beauty and generally skincare regimens, it's a really good product to start with and every so often I go back to it. There have been other products that I have tried, some just as good, some even better, but this has a special spot in my heart.
REPURCHASE? Yes, maybe not right away, but definitely I will probably come back to it again.
Maybelline Baby Lips Cherry Me
Everyone knows that I am a novice when it comes to makeup but I am doing my best. My cousin made me promise not to leave the house without some lip colour but my priority is ensuring I don't have dry, cracking, bleeding lips. Chapped lips are never a good look! I get around this problem with this awesome tinted lip balm from Maybelline. I love love LOVE this lip balm – it gives me nice moisturised lips with a hint of colour so I get to look like I made an effort. What's not to love? I'm sold!
REPURCHASE? Yes o!!!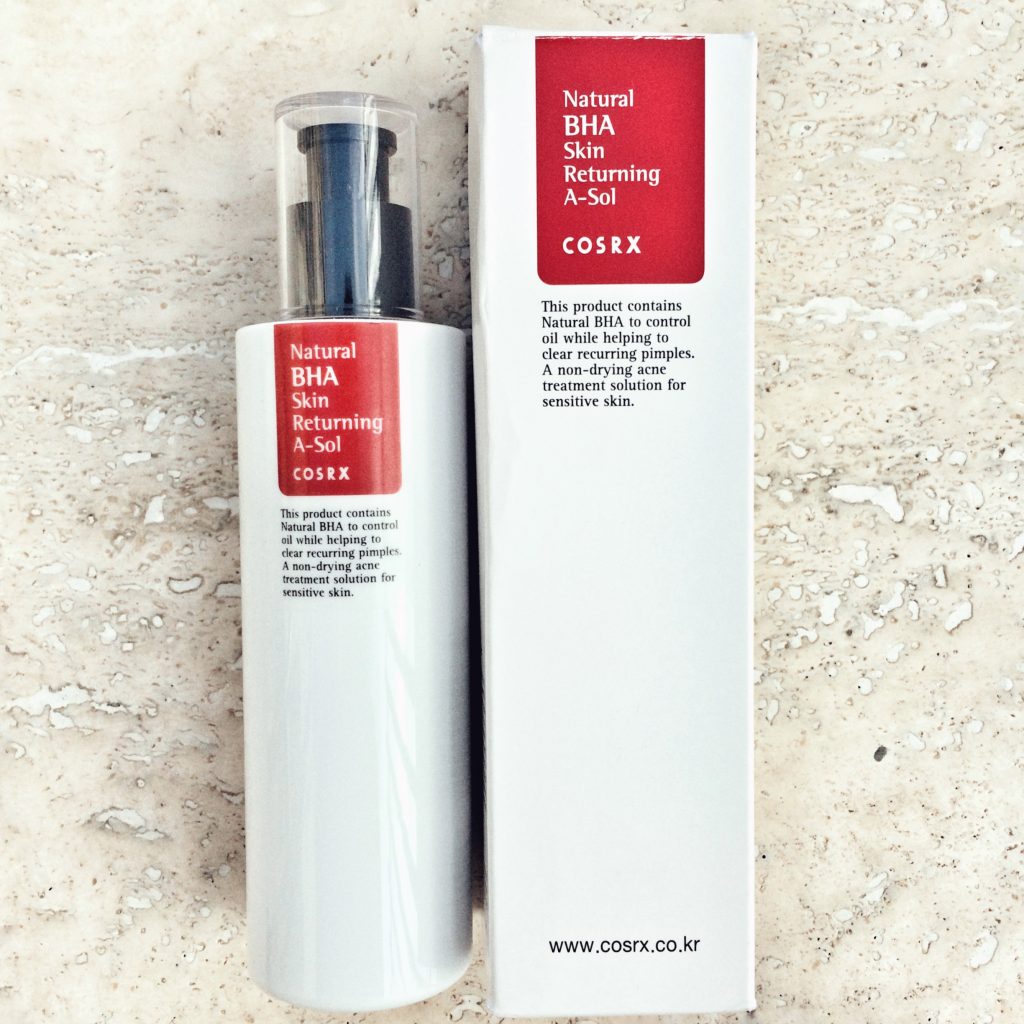 Cosrx Natural BHA Skin Returning A-Sol
I kind of stumbled upon on this brand because it was recommended by one of fave beauty bloggers, and though this was not actually the recommended product, I decided to try out this product on my own initiative. Sometimes, it pays off, sometimes it doesn't especially when the product that was recommended doesn't actually work out (yes that has happened, sigh). But dude, did this product work!!!!!!!!!!!!!!!! This product is the absolute truth. I use it as a toner, so I apply it to my face straight out of the shower and then give it a couple of minutes to soak into my skin. I have oily combination skin that loves a good breakout but this product has given my acne prone skin the fight of its life. I was so sad when it finished but I have already repurchased.
REPURCHASE? Holy Grail. Nuff said.
*Please note that I did not receive any compensation for this review. I paid for the products myself and the opinions expressed in this post are mine and no-one else's.
Have you tried any of these products? Thoughts? What have you recently emptied? Pipe up in the comments below!