Hello hello! It's been a while since I did a hair post and today I bring you a review of two products from the brand, Midas Naturals – the Kiwi Restorative Deep Conditioner and Avocado and Banana Sealing Balm.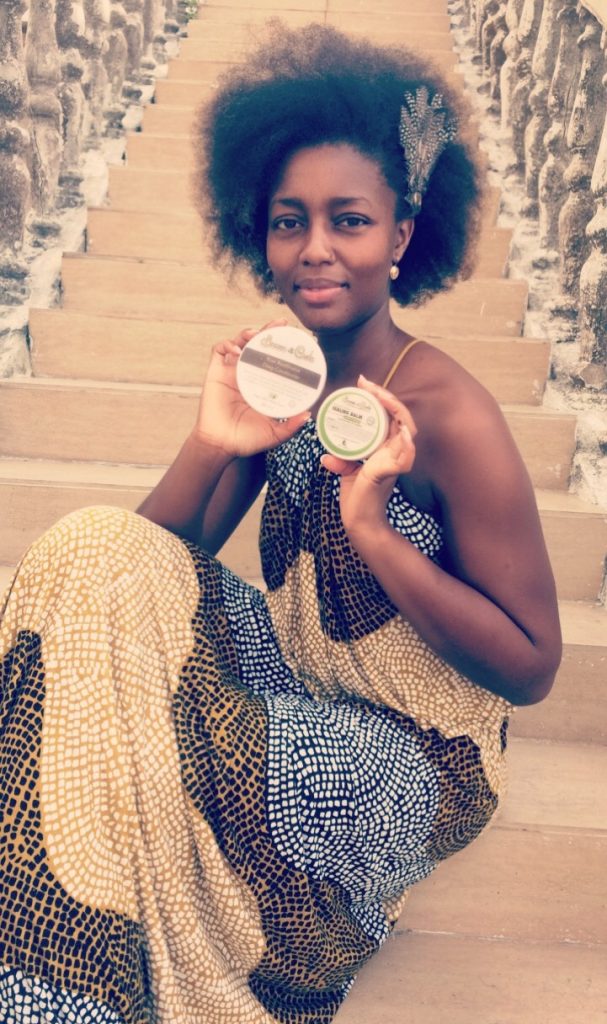 Super excited about this brand – it's an African brand (owned by a Nigerian in fact!) and it prides itself on providing products that consist of only natural ingredients and are "clean handcrafted beauty products and wellness tips for Africans who appreciate the finer things in life." So obviously, I was well chuffed to be sent some products for review. Here's how I got on!
Kiwi Restorative Deep Conditioner
First up for use and review was the deep conditioner. To be honest, I've gotten quite lazy with my routine and for the past few months, have rarely used a dedicated deep conditioner so this was an opportune time to use this product.
Ingredients: Aqua (deionized water), behentrimonium methosulphate (and) cetyl alcohol (and) butylene glycol, orbignya oleifera (babassu) seed oil, adansonia digitate (baobab) seed oil, hydroxypropltrimonium honey, persea gratissima (avocado oil), aqua (and) glycerin (and) bambusa vulgarise (bamboo) shoot extract (and) sodium benzoate (and) potassium sorbet, hydrolysed milk protein, cetrimonium chloride, actinida deliciosa (kiwiseed) oil, cetearyl alcohol, hydrolysed corn protein ( and) hydrolysed wheat protein (and) hydrolysed soy protein, panthenol, Utica dioica (nettle) extract (and) equisetum arvense (horsetail) extract (and) salvia officinalis (sage) extract (and) lavandula angustifolia (lavender) flower extract (and) prunus amygdalus dulcis (sweet almond oil), cetyl alcohol, glycerin, sorbitol, glyceryl stearaye SE, phenoxyethanol, ethylhexylglycerin, ceteareth-20, fragrance oil.
The blurb:
Restorative deep conditioner with hydrolysed milk proteins, bamboo extract and kiwiseed oil, strengthens and nourishes weak, damaged hair.
That is one mighty ingredients list! Some items I picked out were:
Babassu seed oil – this is great for sealing split ends, restoring lost elasticity to hair and did you know it soaks in much faster than coconut oil? Also great for dealing with dry scalp issues.
Baobab seed oil – also great for dealing with a dry scalp and contains Vitamins A, D, and E to help with dry winter skin, hair and nails, and is packed with Omega 3, 6, and 9.
Bamboo shoot extract – contains anti-oxidants and helps to keep hair ducts clear and adds a natural shine and luster to hair.
First off this product smells really really nice. So nice! No comments on the packaging as the brand name has changed from Brazen Curls to Midas Naturals. I used this DC on freshly washed hair, applying generously to my hair, before leaving it to steam for about an hour. I have used this product a few times with and without heat for the deep conditioning process and the results were pretty much the same. The texture of the DC is different to what I imagined it would be like – it has the consistency of a very very thick cream and I guess a bit harder than I'm used to. This was almost more butter like than cream so I wasn't quite sure how it would work in terms of the application and whether it would penetrate through to fully condition my hair.
Final thoughts: I really, reaaaaaaallly liked this product. Where I was worried that the texture was too dense to properly condition my hair, I was proved wrong. My hair felt soft and fabulous and smelt amazing! My hair was super easy to comb afterwards too, I was amazed. Definitely a fan of this product. My sister also used it on her hair and raved about it, so it's not just me that loves it!
Avocado and Banana Sealing Balm
Ingredients: Cocos nucifera (coconut) oil, persea grattissima (avocado) butter, carthamus tinctorius (sunflower) oil, simmondsia chinensis (jojoba) wax, equisetum arvense (horsetail) extract, urtica dioica (nettle) extract, salvia sclarea (sage) extract, fragrance oil, Rosmarinus officinalis (rosemary) extract.
The blurb:
Perfect for the L.O.C. method (Liquid, Oil, Cream – for those wondering what L.O.C. stands for)
There are some big ticket items in this product that definitely warm a girl's heart (strangely though I didn't actually see Banana listed in the ingredients – bizarre!)
Avocado butter – which works to protect hair, rescue split ends, regulates hair growth and moisturises the scalp, provides shiny hair and is a good source of Vitamins B and E.
Jojoba wax – great for keeping the scalp clean and healthy and protects the hair.
Horsetail extract – an ancient herbal remedy which due to the minerals it contains, is great for hair as it strengthens hair, and improves the sheen and texture of the hair.
It's an interesting concept for me because I had never used a sealing balm to seal in moisture in my hair before, only oils. This is more like a butter, really easily applied, melts into your hands and does what it's supposed to.
Final thoughts: Again, the smell of this product is to die for, it's so nice! I did follow the L.O.C. method as directed in the product instructions and my hair felt so fabulously soft and ready for styling. Very nice product – I will definitely keep using and maybe it may just convert me away from my oils as a sealant and I'll start using sealing balms instead.
*I received free products for this review. Please note that I did not receive any compensation for this review and the opinions expressed in this post are mine and no-one else's.
Have you tried any of the above products? What was your experience? Share in the comments below!