Hello wonderful people! Today I bring to you my review of the Joliette product range including:
Joliette  is a new luxury hair & skin care brand for women of colour & style. I was so excited to receive some samples to try out and here is how I got on: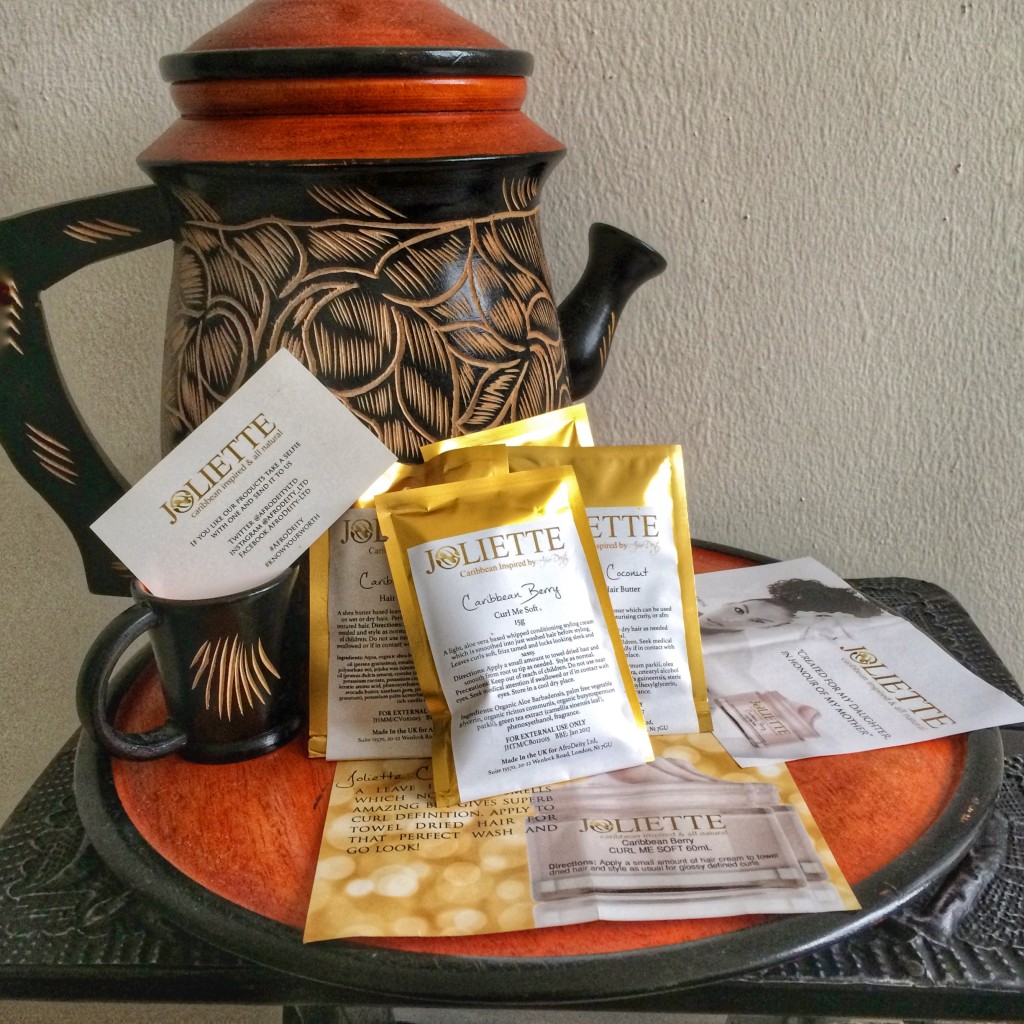 Hair Mud Mask
I got started with the Hair Mud Mask which I must say was the product I was MOST looking forward to trying out.
Ingredients: Aqua, butyrospermum parkii (organic) [Organic Shea Butter],persea gratissima, emulsifying wax NF (cetearyl alcohol & polysorbate 60), simmondsia chinensis cera,prunus dulcis amara, cocos nucifera, pottasium oleate, pottassium cocoate, pottassium citrate, palm free vegetable glycerin, lactic acid (buttermilk powder), keratin amino acid, phenoxyethanol, xantham gum, punica granatum, pottassium palm kernerlate, palm kernel, bentonite clay, avocado butter, banana extract, rich vanilla extract. 
The blurb:
Bentonite Clay is an excellent natural cleansing agent and the mask also contains keratin which works to strengthen your hair. This Mask is infused with banana extract rather than essential oils.
Joliette Hair Mud Mask is an excellent Pre Wash Treatment. It contains keratin for strengthening hair strands as well as Bentonite Clay which is an excellent natural cleanser. Follow up with a Deep Conditioning Treatment for luscious soft manageable hair.
For those days when you feel that your hair just needs to be pampered and appreciated, this should be your go-to product. Grace loved it! It was the equivalent of her lying down on a chaise-longue, wearing a Roman toga and being fed grapes and berries. It was a heavenly experience, both the application and the treatment itself. As explained in the blurb, there is no need to make a paste, so already no hassle involved.
In terms of the ingredients, I took particular note of:
Shea Butter which is the second ingredient for the product. Now we all know Shea Butter is like the holy grail for naturalistas; rich in Vitamins A and E, it soothes dryness, repairs breakage and mends split ends. It should be known as healing butter because of its healing, moisturising, conditioning and softening qualities.
Keratin Amino Acids which is a powerful moisturizer that can penetrate the hair enhancing its conditioning effects. It has a composition similar to hair and is small enough to penetrate the hair shaft where it becomes highly substantive.
Bentonite clay which works really well as a natural cleanser though I have strayed away it from it in recent times because of the mess involved and also because I learned it could be quite stripping to my hair. But the Joliette Hair Mud Mask brought me right back to it.
I used the mask as a cleanser and then used my regular conditioner afterwards but I think in future I would use it as a pre-wash treatment, though it was just as effective as a cleanser. I really did love this product, and Grace was more than enthusiastic about it too.
Final thoughts – I love this product. This mask is like a spa day for your hair and really does deliver. My hair felt soft and clean and pampered – everything you want to feel after a hair mask treatment. Whilst an effective cleanser, I think it would be perfect as a luxurious pre-wash treatment. #winner
Next up, after rinsing out my conditioner from my hair, I applied the Whipped Shea Hair Butter.
Ingredients: Aqua, organic shea butter, olive oil, avocado oil, coconut oil, emulsyfying wax, crambe seed oil, organic palm oil, palm steric acid, xantham gum, pomegranate extract, preservative system, fragrance.
The blurb:
Our thickest leave in Conditioner with our signature mixtures of Caribbean oils and butters.
Well, this product is just jam-packed with oils and butters that would make a naturalista's heart skip with joy:
Shea butter – see above comments
Olive oil – apart from helping to prevent and cure hair loss, it also has antibacterial and antifungal properties which help to combat dandruff and other scalp problems
Avocado oil – highly penetrative hair oil which is easily absorbed into the hair and scalp and acts as a natural humectant, locking in moisture to the hair shaft.
Coconut oil – the endless benefits of coconut oil include protein loss reduction in hair, conditioning and healing properties, aiding dandruff reduction, nourishing dry hair and minimising split ends.
Final thoughts – A pleasant experience using this product and it smells absolutely delightful. Whilst this was not my favourite product of the bunch, it did do a good job of moisturising my hair, working well as a leave in conditioner and setting Grace up for styling.
Finally, it was time for styling my freshly cleansed and moisturised hair. This product was probably the one I wasn't too sure about because I didn't know if it would work well with my kinky coily hair but I was willing to give it a shot.
Ingredients: Aloe Vera Gel, Organic Shea Butter, Castor Oil and Green Tea Extract, Preservative System
The blurb:
Leaves curls soft, frizz tamed and locks looking sleek and sassy. Perfect for hair which needs a little taming after washing.
The ingredients list is not long but its composition gives assurance of its quality content:
Aloe Vera Gel – in addition to its moisture retention qualities, this gel is a great natural route to defining curls and coils whilst promoting natural shine.
Organic Shea Butter – see above comments.
Castor Oil – highly recommended to reverse hair loss and promote hair growth, this oil is also widely used to make hair thicker, longer, stronger and shinier.
I was very pleasantly surprised by this product. I used this product to twist my hair and slept overnight to ensure the twists dried in time. In fact, they did not but I still think this product worked really well as a styler, as my hair still felt soft and bouncy when I took down the twists and did not feel hard or crunchy which is always a worry of mine when I see "gel" in a product name or ingredient. Considering my uncertainty about this product, this product went beyond my expectations – I was so pleased with the results, I am gearing up to place an order as soon as possible.
Final thoughts – The smell of the product is ok but the effects are fantastic – soft, bouncy, defined curls and coils with added shine for good measure. I couldn't ask for more!
*I received free samples for this review. Please note that I did not receive any compensation for this review and the opinions expressed in this post are mine and no-one else's.
Have you tried any of the above products? What was your experience? Share in the comments below!