After getting a smoothing treatment whilst on holiday in the States (for details, click HERE), I was hoping to be able to enjoy straight hair for a little longer upon my return to Nigeria. Alas, I greatly underestimated Nigerian humidity. It truly is a formidable force which my hair could not withstand and by the time I was leaving Murtala Mohammed Airport to head to my house, my bone straight hair had risen up and in like a mushroom cloud!
One morning, a few weeks after my return, I woke up with the worst case of stiff neck ever (I could not move without shouting in pain!), so I randomly decided that the cure for it would be to highlight my hair with ombré highlights (who needs doctors?!). The product I used for the highlights was L'Oréal Paris Féria Wild Ombré 060. I had discovered that L'Oréal Paris had developed an ombré dye for natural afro hair (040 in the same range as the above dye) so I was keen to try that dye. However, I could not find it in any of the shops I went to so I decided to buy 060 instead. From reviews I had read about the product, I really wasn't sure how well my hair would take the dye and how many tries would be required, but I figured it was worth a whirl so I bought two packets just in case.
It's best to apply the dye to stretched or straightened hair for ease of application. Follow the instructions given in the box, mixing the different products in the designated order. It's also very important that you make sure to wear the gloves supplied. If possible, use a stopwatch or set an alarm so you do not exceed the maximum period for the dye.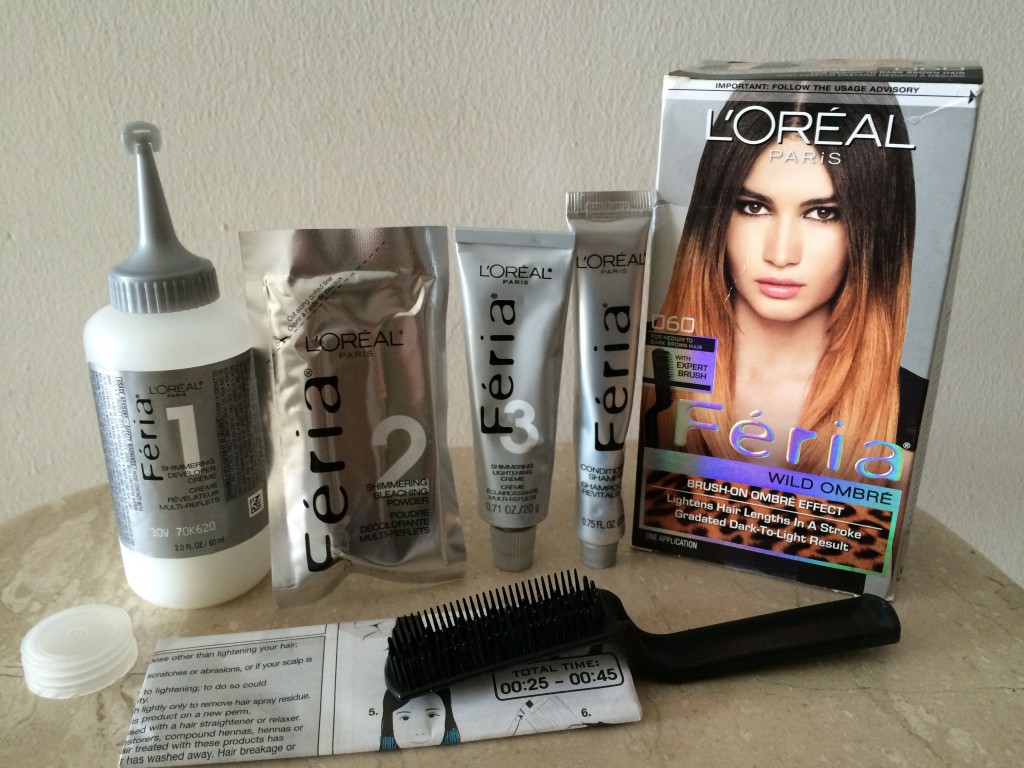 I twisted my hair into 10 twists and begin to apply the dye to each twist, unravelling the twist and combing the dye through with the applicator brush provided. It's completely up to you to decide what ombré effect you want; I wanted a really dramatic look so I started quite high on my hair in terms of where the colour would first appear. Once I had applied the dye to all the twists, I went back over again and reapplied with the excess dye remaining.
Ensure that you stick to the designated time for the product application (25-45 minutes). You may feel tempted to leave the product on for longer so the dye will really show up on your hair but don't give in to that temptation. Make sure you are constantly checking the progress of your hair. At first I didn't really notice anything happening on my hair and to be honest, I was just focused on getting the application done so I could just let the dye and take to the hair. 15 minutes in, I started to notice change. 20 minutes in, as I was going back over the various sections and reapplying the excess dye, I could see that there was definitely something happening to my hair. 38 minutes and I was done!
Once done, I rinsed Grace with warm water and then washed the dye out with the conditioning shampoo provided in the kit. It seems tiny but I used it for the whole of my head and didn't run out of product. It worked well and I did not find it drying out stripping at all on my hair.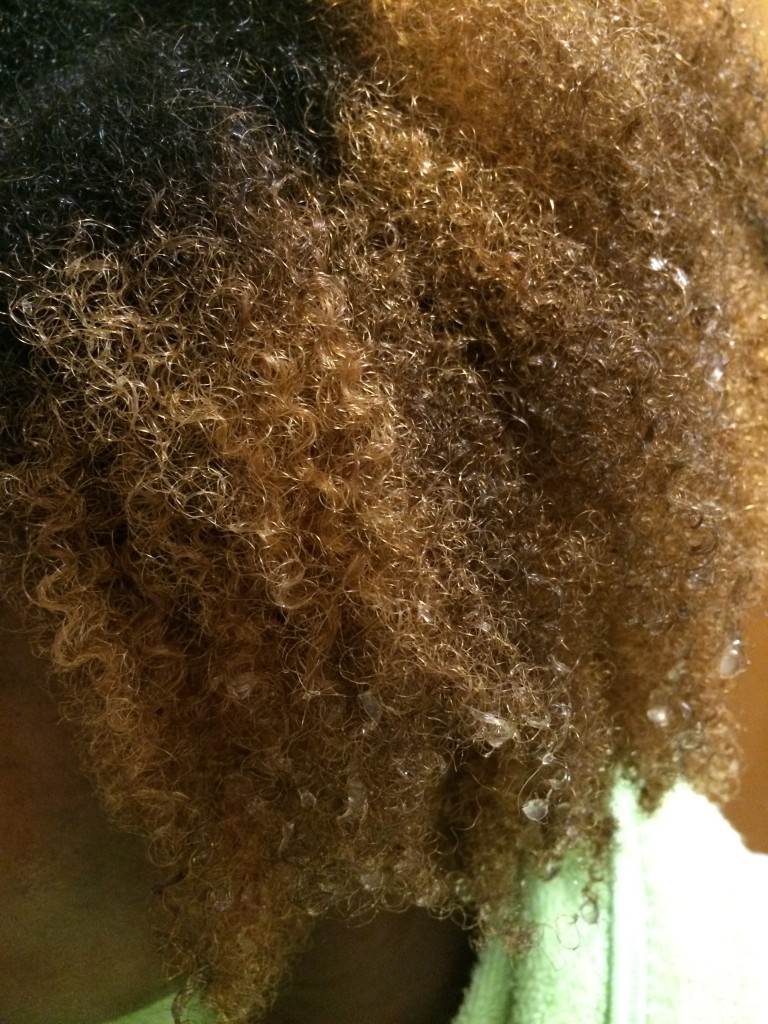 I put my hair in flexirods and left it to dry overnight. Once my hair was dry, the colour kind of took me by surprise. It was REALLY vibrant. I did not expect such a bright colour and such a lift to my hair. I fell in love once I got over the shock of the results. Honestly, I was shocked by how easy and straightforward the application for this dye was and how well the dye took to my hair.  The results greatly exceeded my expectations and it's not like my expectations were low! I did not need the full 45 minutes and I did not even finish the dye provided. Imagine!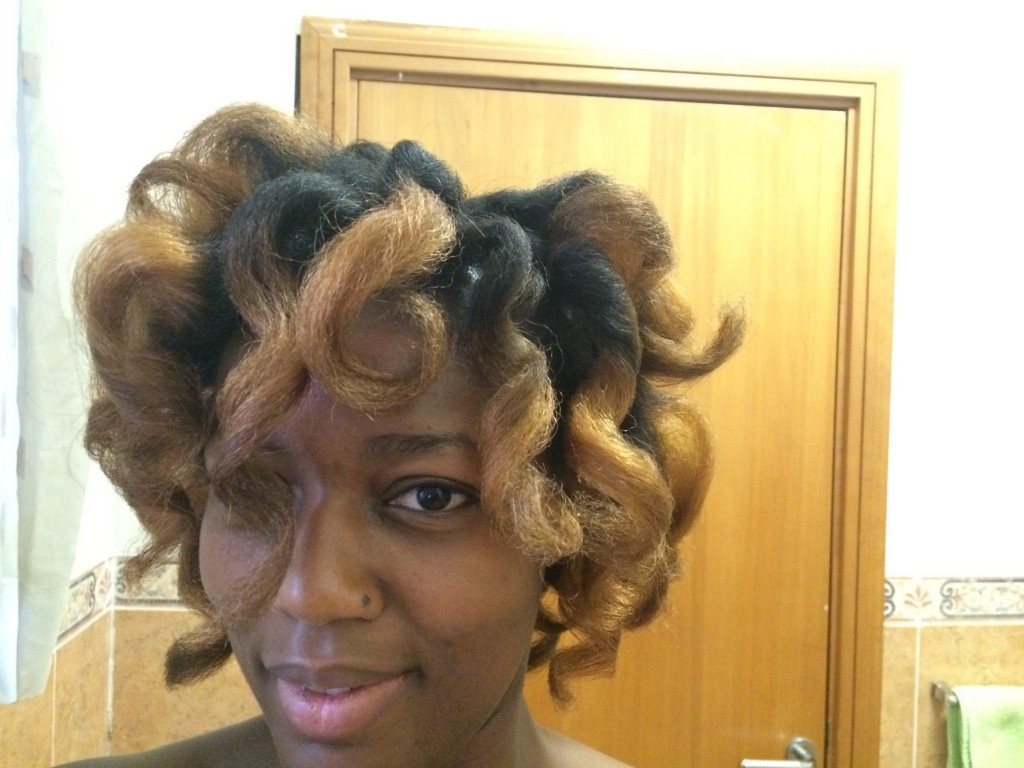 In terms of maintenance, the key is moisture so I ensure that I prepoo or deep condition my hair every time I wash it and spritz it daily to ensure that Grace stays hydrated. I have also made some changes to my products and hair regimen since moving to Nigeria – click HERE for details.
In conclusion, I absolutely 100% love this kit and would definitely use it again in the future. Totally recommend it. It worked really well for me – the application and instructions were very straightforward and I am in love with the results. This DIY kit is a dream – you can achieve a professional ombré highlighted look without having to break the bank. The instructions are so easy to use and the applicator brush is awesome in helping you achieve the look you want, whether subtle or dramatic. The two-tone fro is back and I am loving it!
*Please note that I did not receive any compensation for this review. I paid for the product myself and the opinions expressed in this post are mine and no-one else's.
Have you tried the L'Oréal Féria Wild Ombré range for highlights on natural hair? If you haven't already, would you try the kit? Pipe up in the comments below!