As promised, here are the details of my night-time skin care routine (click here for details of my morning skincare regime).
1. Cleanse
If I've been wearing make-up during the day, the first step in my night time skincare routine is to take off the make up using a cleansing wipe. I don't really use a particular brand, just whatever is on offer at my local supermarket. I have hundreds of these babies, having stocked up at the end of last year so my current wipes are Nivea Refreshing Facial Wipes.
  1.5. Cleanse again
I've mentioned before the concept of "double cleansing" – washing your face after first removing make up with a cleansing wipe or a cleansing oil. This is essentially to ensure that all the make-up and grime of the day is completely removed from your face so you can start fresh with the toner. And on that note…
2. Tone
Just as in my morning skincare regime, I use Missha's Time Revolution First Treatment Essence straight after rinsing the cleanser from my face. Magic stuff this is!
3. Serum
My serum of choice at night-time is OST C20 Serum. If you suffer from hyper-pigmentation, you definitely want this bad boy in your skincare arsenal. I can testify to how amazing this product has worked on my skin – brightening, tightening, refreshing my face. It's incredible. It's really helped with evening out my skin tone and smoothening my skin. I apply by putting a couple of drops directly on my face and then rubbing into my skin, using circular motions. I've read reviews saying that application can have a stinging or tingling effect but happily, I have not experienced this. It does leave a sticky film on my face which is a bit annoying but it's worth it for the effects!
4. Emulsion
I don't know if I'm actually supposed to use this on a daily basis but my night-time emulsion is the Innisfree Jejubija Anti-trouble lotion. This is particularly effective for acne outbreaks – results are swift and noticeable. Using this emulsion has been fantastic for my skin recovery so I guess I am now using it as a protective measure against future acne outbreaks!
5. Moisturiser
Penultimate step (well nearly final depending on if I use the optional steps) is to apply the Benton Snail Bee High Content Steam Cream. This cream really does a wonderful job of keeping my face moisturised and hydrated through the night and is absolutely fabulous for sensitive skin. A little goes a long with this product and I only need a tiny amount to rub on my face to finish.
5.5. [Optional] Spot essence
As with my morning skincare routine, as soon as I spot a blemish, I will apply Innisfree Jejubija Anti-trouble Spot Essence W to deal with it quick smart. Ain't nobody got time for spots! Works a treat.
6. Eye cream
Ok seriously final step in my normal night-time routine is to pat some eye cream under my eyes and over my eyelids to prevent aging and wrinkles. My eye cream of choice is Etude House's Moistufull Super Collagen Eye Concentrate.
7. [Optional] Sleeping pack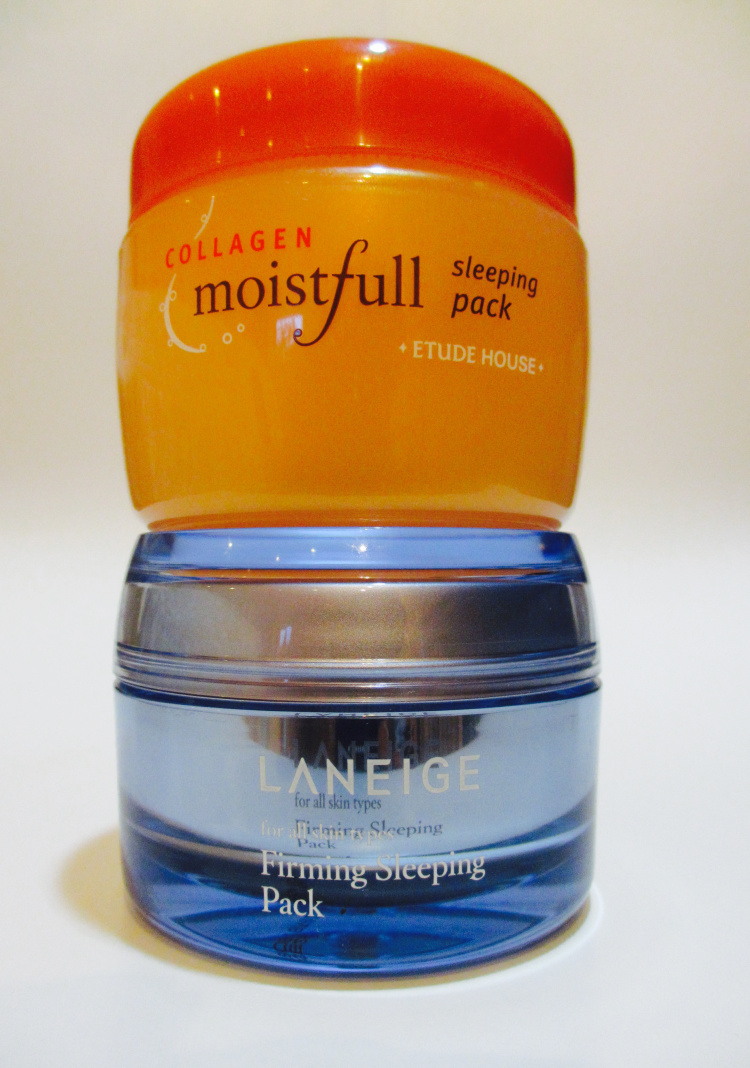 Every so often when I am feeling particularly indulgent, I will apply a sleeping pack to my face as a final step in my night time routine and then toddle off to snooze. It does feel a bit weird and I feel like I am essentially putting gunk on my face but it's so worth it when you see the results in the morning. It's good for skin hydration and moisturising your face throughout the night. The morning after I use a sleeping pack, I am always amazed at how smooth and soft and generally wonderful my skin feels. It is worth doing from time to time though I must admit I haven't really used a sleeping pack more than about 3 times this year. In my opinion, it's not an essential step in the skincare routine but it's a lovely and worthwhile nice-to-have.
So there you have it – these are the details of my skincare routine. I can't stress enough what a visible difference there has been to my face since I start paying more attention to my skincare and Lord knows particularly since January. A key component to an effective skincare routine is consistency and commitment. It seems like a hundred steps but actually only takes me about 10-15 minutes each morning and evening. It's a relatively small time commitment given the results I achieve from the regular time investment so I shall keep going with these steps and keep you guys updated on how I am getting on.
I love getting skincare tips and product recommendations so please share your own skincare tips or favourite products in the comments below.