I recently started reading about Korean skincare routines. The more I read, the more I thought "what rock have I been living under all your life?!" For those of you in the dark and wondering what this nut is going on about, here are some very insightful posts on Korean beauty and skincare – here, here and here. They opened my eyes to things I never knew!
So I got to thinking – my life needs to change.
I'm very much a simpleton when it comes to these things. I don't know much about makeup so I hardly ever wear it. The extent of my skincare routine to date has been to use cleansing wipes on my face when I do wear makeup to take it off and to wash my face in the mornings. I've always lived by the "never go to sleep in your makeup" rule but that's really it. The funny thing is that I'm not even one of those blessed people who never has to worry about acne and has blemish free skin so I really have no excuse for why I have not put more effort into skincare. But that was before. No longer. My life has changed and I am a new woman – hear me ROAR!
After carefully studying each line and product mentioned in the above posts and numerous others, I got to devising my very own Korean skincare routine and have been following these steps for the past six weeks. I am already seeing results – it's amazing! Here's what I've got so far:
STEP 1 – Cleanse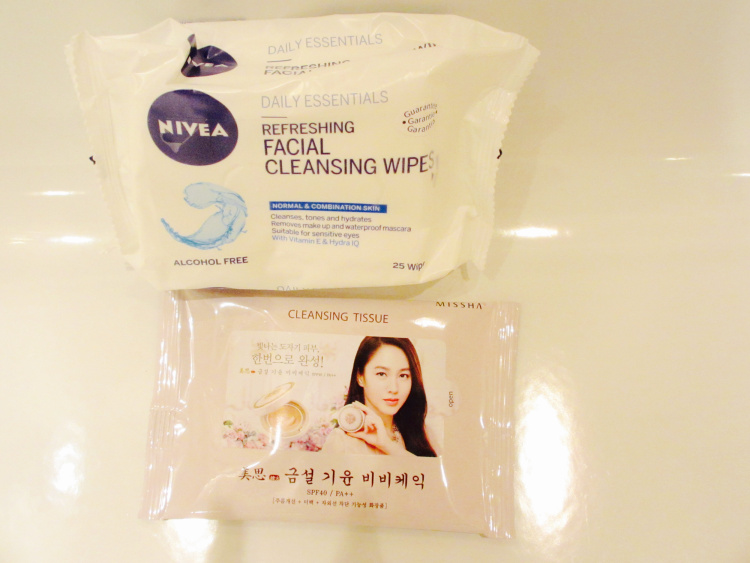 On the days I wear makeup, I use cleansing wipes to remove my makeup. To be honest, I don't really have a preference on which cleansing wipes I use; I just use whichever ones happen to be the subject of a great deal at Sainsburys/Tesco/Boots/insert your friendly local supermarket or pharmacy. The other amazing thing with Korean cosmetics is that there are always lots of free samples with the goodies you purchase. I received a batch of Missha cleansing wipes with one of my purchases. I'm sorted for a while on this step!
Step 1.5 – Cleanse again/Exfoliate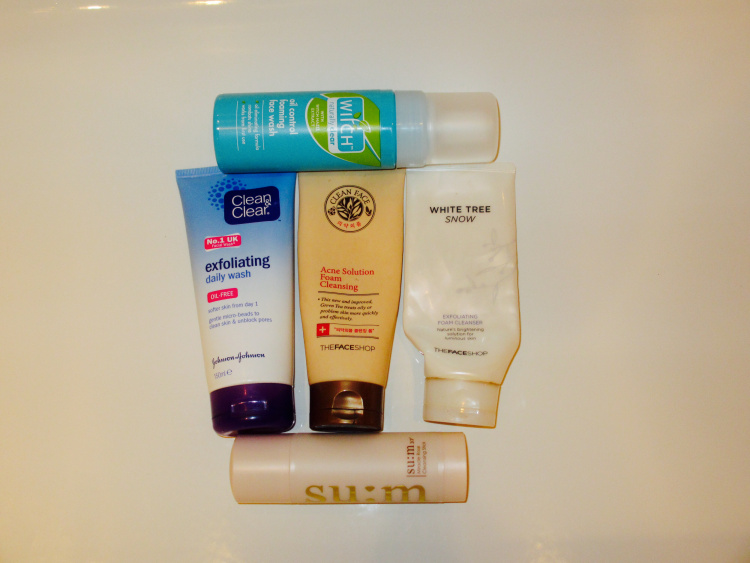 Apparently, the key is to "double cleanse". So after taking off my makeup with the cleansing wipes, I was my face with a foam cleanser. Double cleansing is particularly important on days when you have been wearing a lot of makeup because you may not take it all off with one sole round of cleansing. If I have not worn any makeup, this is usually my first step in the routine. DO NOT do this as a first step if you have worn makeup as it will not get rid of all the makeup. You will just end with grime buildup on your face and strange panda eyes from your eye makeup. My cleansers include:
SPLURGE
Su:m37 Miracle Rose Cleansing Stick (please note that this product has been discontinued but you can still find it on eBay or Amazon)
SAVE:
*About to show my ignorance here* I didn't realise that exfoliating on a daily basis is not actually good for the skin. At a very basic level (and please note that I am NOT a skincare expert!), I understand the purpose of exfoliating to be for the removal of dead skin cells and it hastens the shedding process. Excessive or daily exfoliating, however, can actually harm the skin and make existing damage worse. Who knew? I didn't, clearly! Obviously, if you have been exfoliating daily and have not experienced any adverse effects to your face, keep doing what works for you!
Now, instead of daily exfoliation, I exfoliate 3-4 times a week using a loofah (that I got for 75c in Kroger in America – bought 10!) and one of the above cleansing products. The other times I wash my face during the week is simply with my hands and a cleanser.
Step 2 – Tone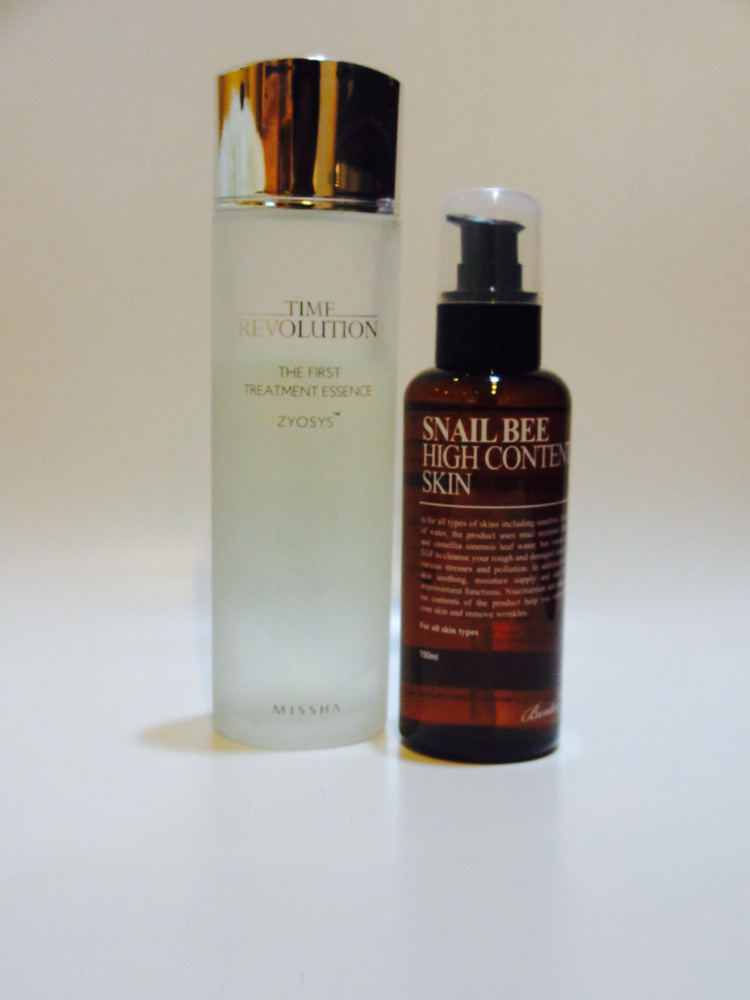 *Side note – I never knew you were supposed to do this AFTER exfoliating! I thought it was before! Oh I'm such a simpleton!*
I use Benton Snail Bee High Content Skin and Missha Time Revolution First Treatment Essence. They are amazing. They literally make my skin glow. It's unbelievable but real! I also have my homemade Apple Cider Vinegar toner (here's a fantastic post on how to make your own brew) but this has kind of taken a backseat to the Korean products. If you're really into making your own stuff, and would like to give it a go, here are 25 ways of making your own toner.
At this point in the Korean beauty regime, some people use gels or masks…erm I have not gotten to that stage just yet. Rome was not built in a day. Back to MY regime…
Step 3 – Essence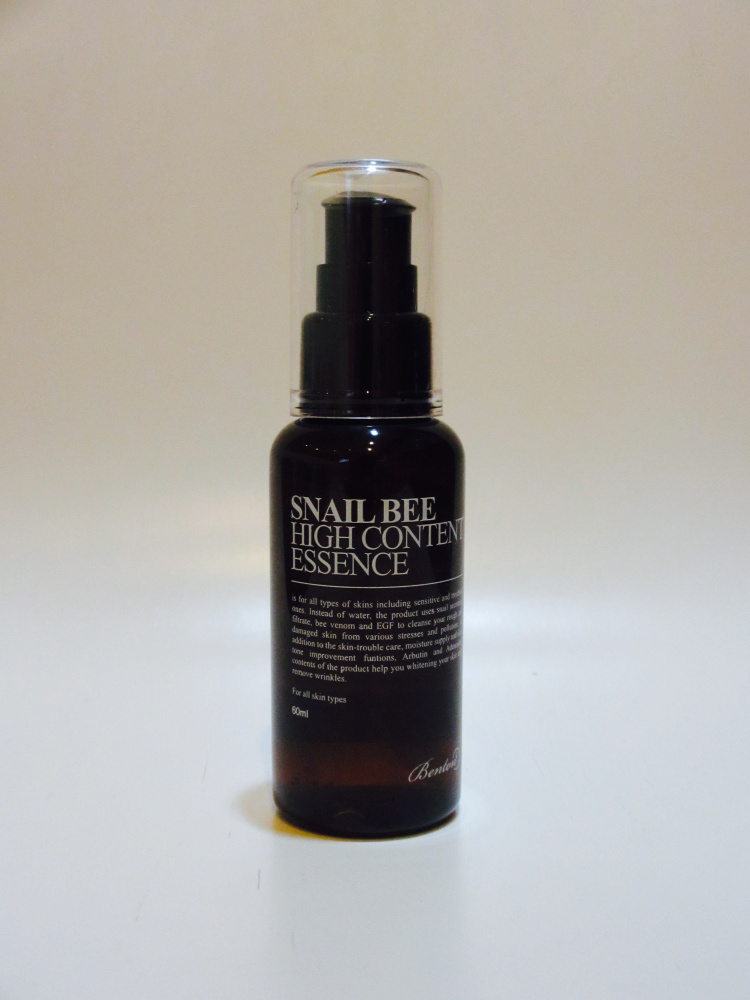 I'm still a newbie to all of this so bear with me. For some, if you use a toner, you don't need to use an essence; you can jump straight to the serum stage. For others, if you use a toner and essence, you don't need a serum. Well, I'm going to see how this all works for me so I'm starting with everything. The essence is supposed to make your skin smoother and brighter. Huh? Well let's see how we do. Currently, using Benton Snail Bee High Content Essence.
Step 4 – Serum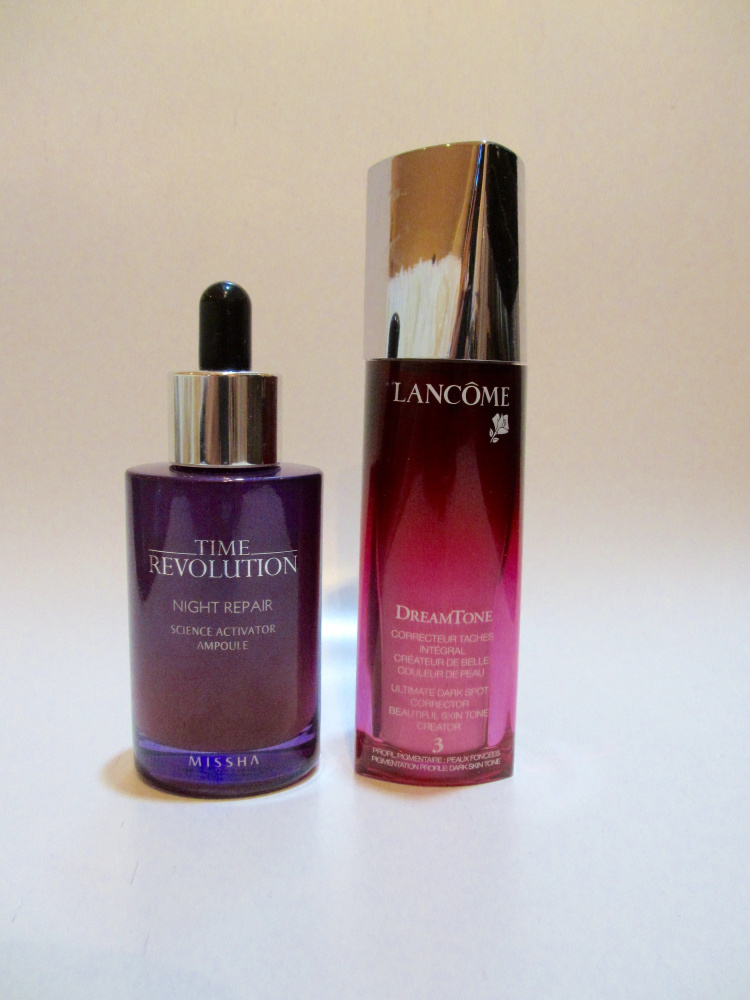 Say what? Yes, I'm not done. The serum is a concentrated form of essence ,which you use to target problem areas, depending on what the problem is. Apart from acne, I have major issues with hyperpigmentation and really need some help with that. I'm not into lightening or whitening or any of that type of jazz but I would really like help dealing with old dark acne scars that mess with the whole flow of my face, particularly on the far side of my cheeks. I'm not having that. So the products in my rotation at the moment are serums specifically designed to combat hyperpigmentation. Be warned – they are all SPLURGE items!
Step 5 – Emulsion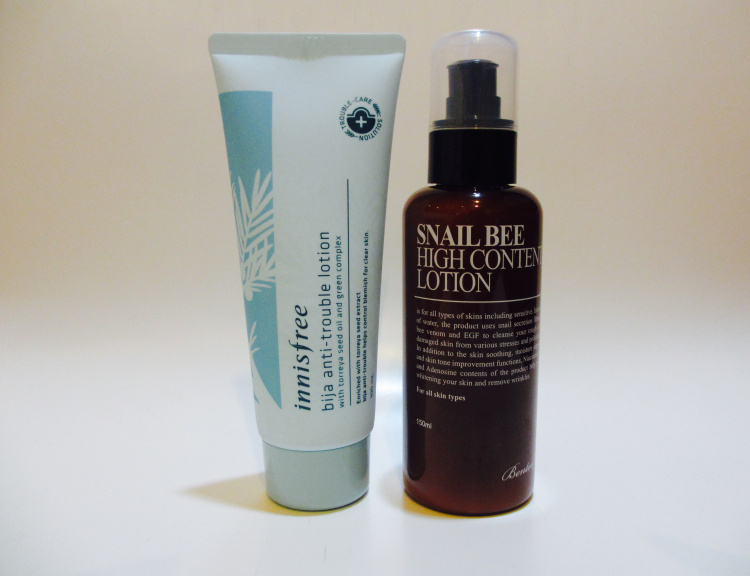 This basically seals in the moisture from the serum and the essence. I use Benton Snail Bee High Content Lotion in my daily routine and Innisfree Jejubija Antitrouble Lotion for those days when my acne is trying to break free. My Korean bestie told me that the Jejubija Antitrouble Lotion was the truth and she did not lie. I'm using it and it really does make a difference in combating those troublesome spots.
Step 6 – Eye Cream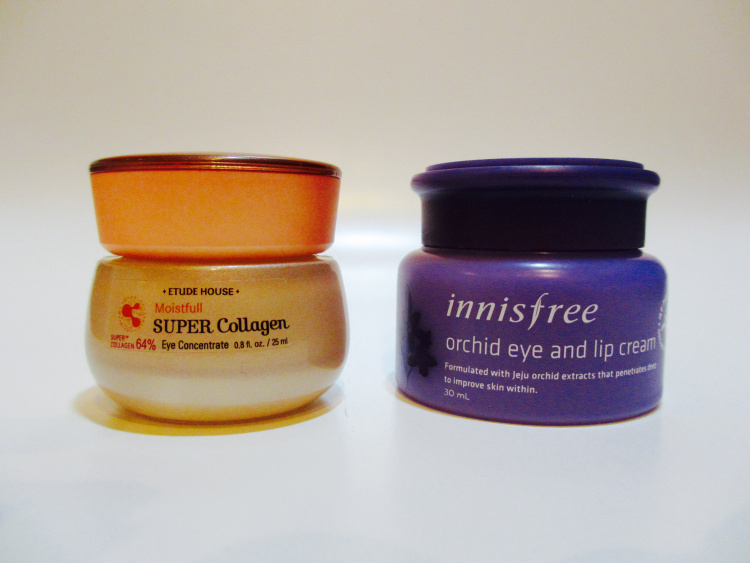 This is actually very necessary to my life. I don't want to age before I have to, and right now my eyes could definitely do with some lifting and less fatigue. So, in addition to getting more sleep, I have started using Innisfree Orchid Eye and Lip Cream and Etude House Moistfull Super Collagen Eye Concentrate.
Step 7 – Moisturiser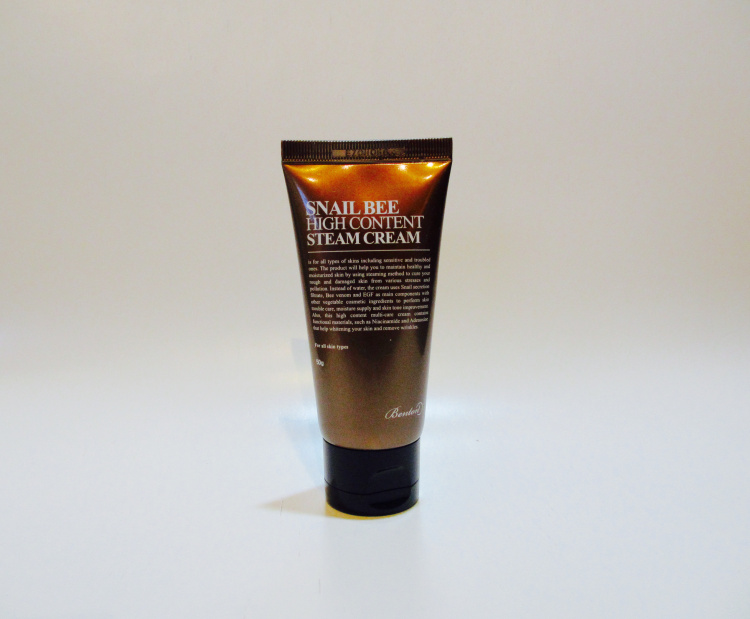 I know it seems like this just involves piling more and more layers onto the skin which can't be good for it, right? Actually (and weirdly!), it is! This stuff actually works. I don't fully understand how or why but it really does. Really! Especially now it's winter and my skin is dry as heck. The layering protects the skin and keeps it moisturised. Obviously, make sure you're not slapping on loads of cream and products or you'll just end up with an oily face and clogged up pores – exactly what you're trying to get away from. Use the products in moderation and you will be shocked at the results. For moisturiser, I use Benton Snail Bee High Content Steam Cream. 
Step 8 – Sleeping Pack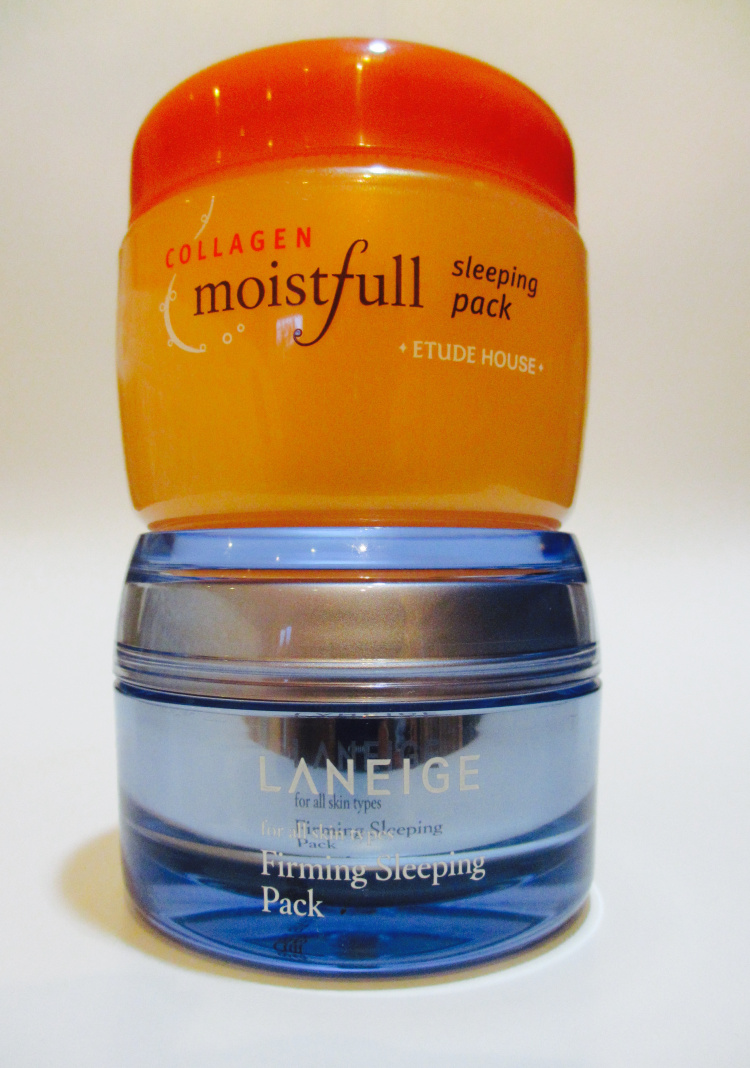 I am not playing around with my skincare regime this winter. After all the above steps, I finish off with the application of Laneige Firming Sleeping Pack or Etude House Moistufull Collagen Sleeping Pack. The point of the sleeping pack is to ensure that your skin stays hydrated through the night and maintains the elasticity of your skin. Honestly, I wake up in the mornings after using a sleeping pack and just stroke my face. I kid you not. I loves it!
That's it! That's my skincare regime. I will keep you guys posted on how things are going and any new products I get. So far, so good. As I said, I'm already seeing improvements to my skin so yay!
Have you tried Korean beauty products or do you follow a Korean skincare regime? What are your tips for good skincare? Please share in the comments below!