Happy Sunday!
I've always fancied myself as a bit of rebel schoolgirl so I felt inspired to go for the St Trinian's look (even if I've never watched any of the movies!). It was also another opportunity to break out my Vivien Bis coat. Happily, the weather was pretty mild (comparatively speaking of course!), so the winter coat got a break today. I spent the day with my gorgeous friend, Bunmi, in celebration of her birthday tomorrow. It was pretty awesome and the icing on the cake was the free cornbread she got from Barnyard (yep we're going back there!). I also have Bunmi to thank for the awesome pics she took!
The hat was very necessary today – I went to an "old age pensioner" themed birthday do yesterday and poured talcum powder all over my head (to achieve the grey hair effect, in case you're wondering!). So I needed the hat to cover my shame and to prevent people from wondering whether I was experiencing a bad case of dandruff!
The one thing I am enjoying about the cold weather is the fact I get to experiment with layering, and I'm loving it right now. So let's see how I go, you may not love all my combinations but I'd be interested to hear your thoughts on them anyway! 🙂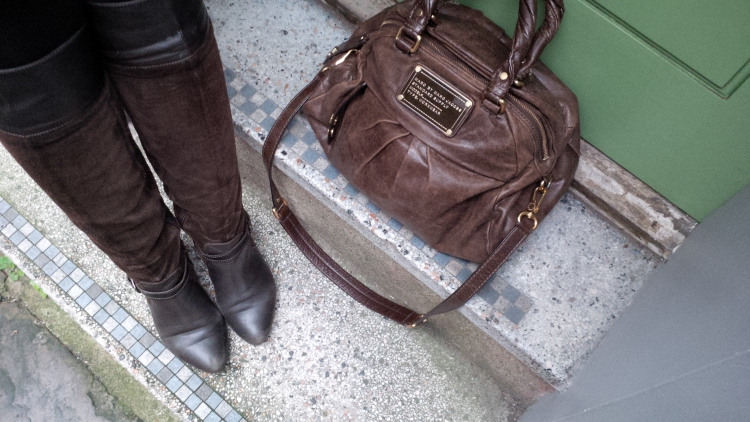 Have a fantastic week!
Outfit details: Black sweater dress – Zara; Coat – Vivien Bis (previously seen in this post); White shirt – Thomas Pink; Boots – Nine West; Bag – Marc by Marc Jacobs; Bowler Hat – H&M