Hi guys
Sorry for the silence, I'm in Nigeria right now, Lagos town (or Las Gidi as it's affectionately known). So that's why posting has been a bit irregular, apologies! And to make up for it, I have a product review for your delectation and delight! I received some products for review from a new hair brand – cinagrOrganic and I am very excited to share my experience with you. cinagrOrganic is a socially responsible hair product line created for the purpose of promoting healthy hair by utilizing naturally & organically based ingredients. Here's how things went!
I received the following products: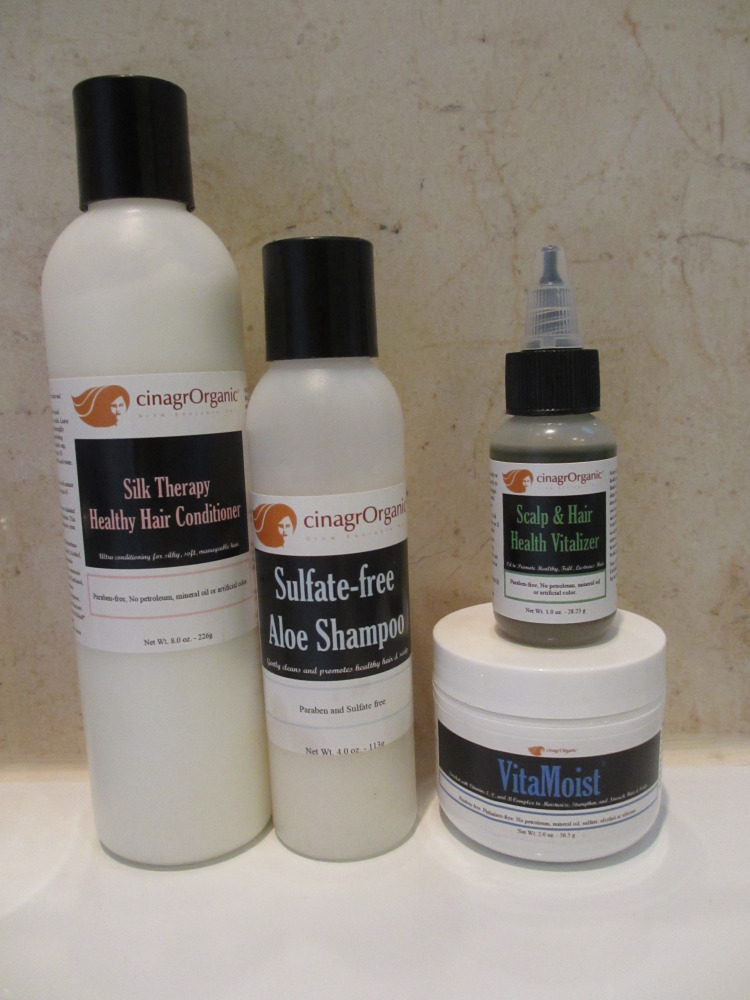 Sulfate Free Aloe Shampoo
Silk Therapy Healthy Hair Conditioner
Vitamoist
Scalp and Hair Health Vitalizer (but I haven't used this yet so I won't be reviewing it in this post)
Sulfate Free Aloe Shampoo $8/4oz
The blurb:
"Sulfate-free Aloe Shampoo by cinagrOrganic is a gentle shampoo that thoroughly cleans hair & scalp without stripping natural oils, which will leave your hair naturally clean & healthy. Color safe. Safe for use on children."
To start off with this product, I sectioned my detangled hair into 4 sections and washed each section. I found this to be a good and effective cleanser. It did what it said on the tin and I can't really complain about that!
It was a gentle cleanser though I did find myself using a lot of product on each section of my hair to ensure there was enough lather just so I could reassure myself that my hair was clean. I'm a lather fan, so the fact it didn't lather up so much was a bit of a downer. Or maybe my hair was just that dirty ha! It's a product that does need to be used sparingly or you will need to buy a lot of it because at the moment it only comes in 4oz bottles which may be a bit problematic if you have a thick, full head of hair.
Final thoughts
It is a good and effective cleanser, but not enough lather for me!
Silk Therapy Healthy Hair Conditioner $12/8oz
The blurb:
"Silk Therapy Healthy Hair Conditioner is an ultra conditioning treatment that leaves hair feeling superbly silky and moisturized. With Certified Organic oils of Jojoba, Kukui and Castor, that penetrate the hair shaft, your hair will be shiny, manageable and healthy."
This product is amazing! I love this conditioner. After rinsing out the shampoo in each section of my hair, I would apply this conditioner to the section and pin up with a butterfly clip. Now the directions for use say to "apply generously" and I didn't need to hear anything else. You know I am heavy handed with products anyway, so this was a license to apply and enjoy! So I did, and I love this product.
On both occasions that I used it, I also used it as a deep conditioner and steamed my hair for 30 minutes as directed. Oh my word. My hair felt incredible – it was soft and fluffy and soooooooooo easy to comb through with my wide tooth comb. There was also a lovely shine to my hair to top things off. It really does a fantastic job of thoroughly conditioning and refreshing your hair, as well as prepping it for styling afterwards. The ingredients are pretty awesome – jojoba, castor and kukui oils amongst others. Yep, I'm a fan of this one.
Final thoughts
This product is a winner for me. Fantastic conditioner, does its work and leaves hair feeling soft and fluffy, and gives a healthy shine as well for good measure. I likey!
Vitamoist starts from $10/2oz
The blurb:
"Enriched with Vitamins E, C, and B Complex to Moisturize, Strengthen, and Nourish Hair & Scalp"
"A vitamin fortified moisturizing cream for everyday health, strength, and wellbeing of the hair and scalp. This nourishing moisturizer includes vitamins that activate the cells of the scalp, stimulate blood circulation, and protect hair from damage. With a base of coconut and olive oils, this moisturizer soaks into every strand, penetrating deeper into the hair shaft."
After my glorious conditioning experience, I wasn't sure quite what to do with my hair. I decided to forego my normal leave in conditioner and simply go ahead and apply this product directly to my hair as I styled Grace in twists for the week per my protective styling regimen. I'm not sure that was the right thing to do as my hair definitely works better from experience with a leave in before applying a styler. However, I wanted to ensure my product experience was authentic and not influenced by the use of other products.
It has a very thick buttery consistency so definitely one to use as the last product on your hair before styling rather than the first after conditioning. Aside from that, this was a good and effective moisturiser. It was easy to use to twist up my hair and added to the softness already there from the conditioner. I like this product and it is a good one to keep in the protective styling products arsenal. I can't say that it gave me great results for a twistout when I took the twists down; then again few products do give me good definition for my twistouts (beyond my beloved Cantu Coconut Curling Cream and DE Natural Curl Stretching Creme) so I won't hold that against it. The only con for me on this product is that it is a little pricey in terms of quantity of product  versus money paid. I must say though that my little 2oz tub has lasted 2 lots of twisting of my whole head so a little does go a long way -this is not the product to be heavy handed with!
Final thoughts
Good and effective moisturiser. A good item to have in the protective styling products arsenal.
All in all, I really enjoyed my cinagrOrganic products experience – especially the Silk Therapy conditioner. They're good products that do what they say so go check 'em out and let me know how you get on!

*I received free products for this review. Please note that I did not receive any compensation for this review and the opinions expressed in this post are mine and no-one else's.
Have you tried any of the above products? What was your experience? Feel free to share in the comments below!