Hi guys!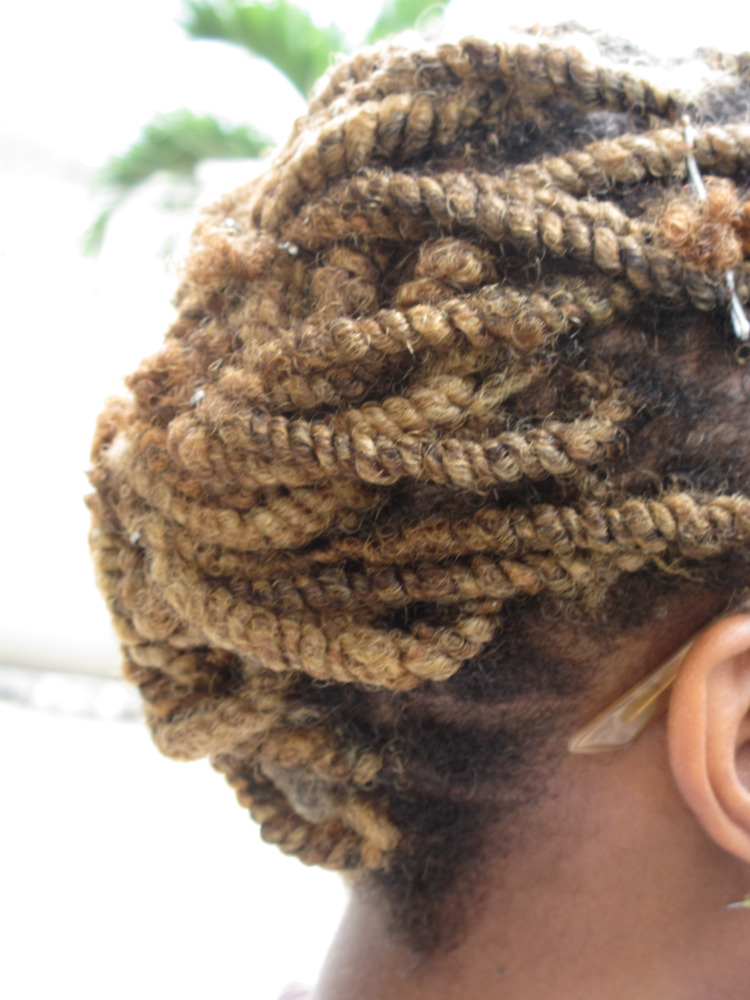 Here's an update on Grace this week in terms of her time in custody. I think she has been doing quite well but I will examine her at the end of the 4 weeks. Although, having said that, this is Week 4 of the custodial sentence! Crikey! Here's the journal entry of the regimen for this week:
Prepoo: Mix of Boots Fruit Essence Moisture Repair Conditioner and Water (using a spray bottle). Detangled hair first with fingers and then with a wide tooth comb.
Shampoo: The Body Shop Ginger Anti-Dandruff Shampoo
Conditioner: Vatika Coconut Oil and Huetiful Strengthening Hair Masque (also known as the Nanosmoothing Maintenance Conditioner)
Steam under Huetiful Steamer for 20 mins
Leave-in conditioner – mix of Vatika Coconut Oil and Ogx Biotin and Collagen Amplifying Lotion*.
Style: Twisted Grace into about 30 medium-sized twists with Carol's Daughter Marguerite's Magic.
*My friend challenged me to use the Ogx Amplifying Lotion on its own as a leave in without the other components of my normal leave in mix. I will do a proper product review soon once I have used it on its own one more time and then I will let you guys know how it performed. I will say this – the smell is incredible, I love it!
This week, I've also been spraying my hair twice daily with Shea Moisture's Yucca & Baobab Thickening Moisture Mist and Ogx Keratin and Argan Oil spray.
I'm thinking about extending Grace's custodial sentence. Prisoners normally get early release for good behaviour; in Grace's case, she gets an extension on her jail time. Currently thinking about putting her in mini twists for the next two weeks at the weekend. My hope is that the extension will continue the good work we have started in terms of keeping her protected, moisturised and focused on length retention. Well, let's see how it goes.
Enjoy the rest of your week!
Love Bids & Grace