Hi all
So here is the second part to my mini-series on the Huetiful Nanosmoothing Treatment, Salon and Steamer. I talked about my experience at the Huetiful Salon in Atlanta, getting the Nanosmoothing Treatment. If you haven't read it yet, click here for a read before continuing with this article!
Ok, now where was I?
During my treatment at the Atlanta salon, I asked Stephanie about the benefits of steaming. She explained that steaming helps to keep the hair cuticle hydrated, in particular for highly porous hair. My hair is quite porous particularly the ends which have been coloured, so my hair grabs at all the moisture in the air, (hence why my hair always seemed to poof up with the slightest hint of rain ha!). She explained that the work of the steamer is to infuse the hair shaft with moisture and seal it in so the hair is not so thirsty. She spoke to me about the famed Huetiful steamer. Here's the spiel from the website:
Restores moisture to your dry hair up to 5x better than the leading deep conditioner
Strengthens hair by replenishing moisture lost to keratin treatments, relaxers or heat straightening
Significantly reduces breakage and split ends caused by dry hair while improving manageability
Easily converts into a Spa Facial Steamer in just two minutes (I haven't tested it as a facial steamer yet but I shall!)
To be honest, I had pretty much made up my mind about getting the steamer before getting the treatment but my experience at the salon cemented my decision. Speaking with Stephanie, it wasn't a hard sell and there wasn't any pressure for me to buy a steamer. I had read enough reviews, enjoyed my experience at the salon and, most importantly, saved enough money that I thought "what the heck? Go for it!" so I did.
I asked about maintenance and after care in respect of the Nanosmoothing Treatment. There is a maintenance kit which consists of a shampoo, conditioner and leave-in protectant. This is supposed to be prolong the effects of the treatment for up to 8-12 weeks. I did end up buying 2 maintenance conditioners and have resolved to use them as a deep conditioning treatment for my hair every 4- 6 weeks. So far I have used the conditioner twice on my hair. I have noticed that it definitely had an effect on my hair, the most pronounced effect being on the hair at my nape, which is slightly curlier and less coarse in texture than the rest of my head. For that reason, I decided it probably wouldn't do to use the maintenance conditioner too regularly! I do also need to invest in a proper deep conditioner as I mentioned here.
Back in London…
My steamer arrived a couple of days after I got back, having been sent from the Amsterdam warehouse (note I got back on a Saturday and I think it was here by Tuesday or Wednesday the following week, which is beyond awesome!). Meanwhile, I was rocking my straight locks like crazy (check out my Instagram for pics). I'll admit it was weird to be back to wrapping my hair at night and putting the flexirods in on a nightly basis. My colleagues were definitely shocked – they had never seen me with straight hair. I liked the look for a minute…but there were some cons. I hated that I was super paranoid about the weather. It was cold in January but not necessarily always rainy yet there I was, armed with an umbrella if the clouds even looked like they were contemplating rain. I was paranoid of the shower. I was paranoid about working out. Just paranoid.
In the end, I rocked the straightened look for about 2.5 weeks before caving. I missed curly Grace! The novelty of straight hair wore off. I wanted her curls back. Plus I wanted to make sure that they WOULD come back. So here the wash process in pictures: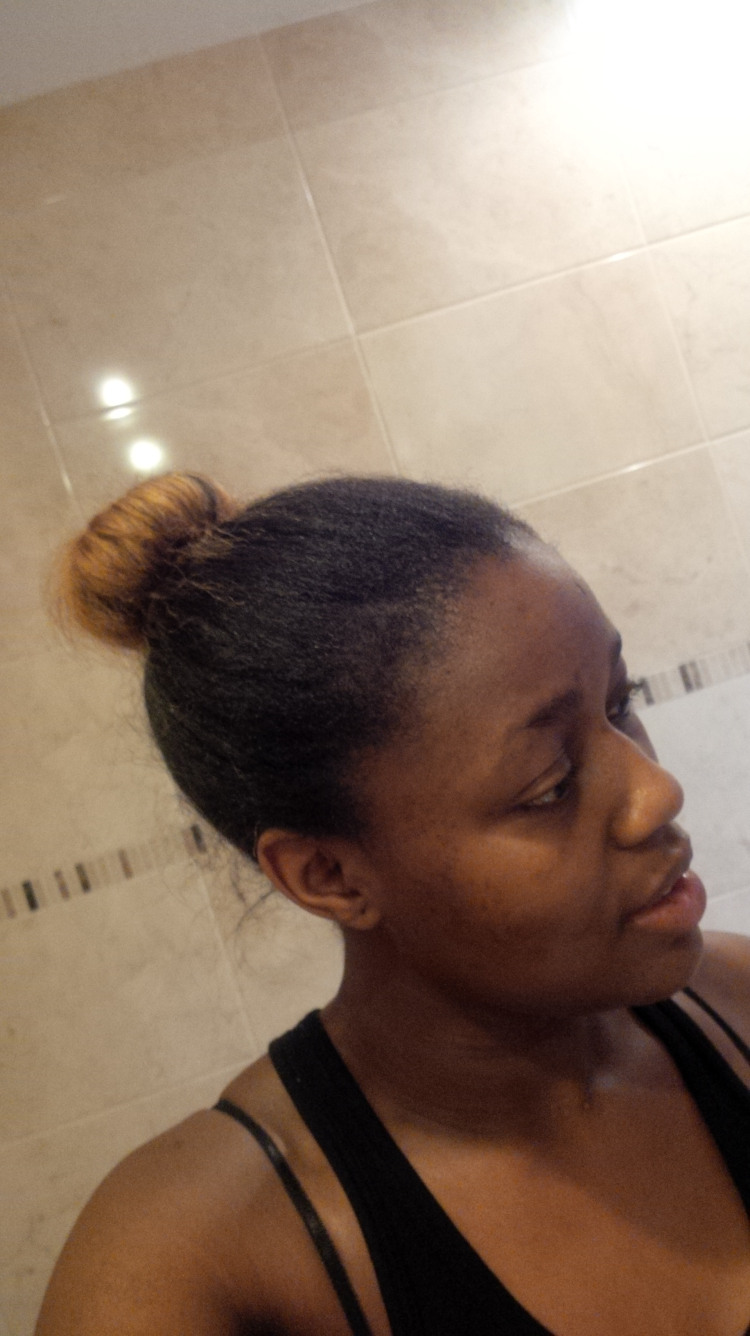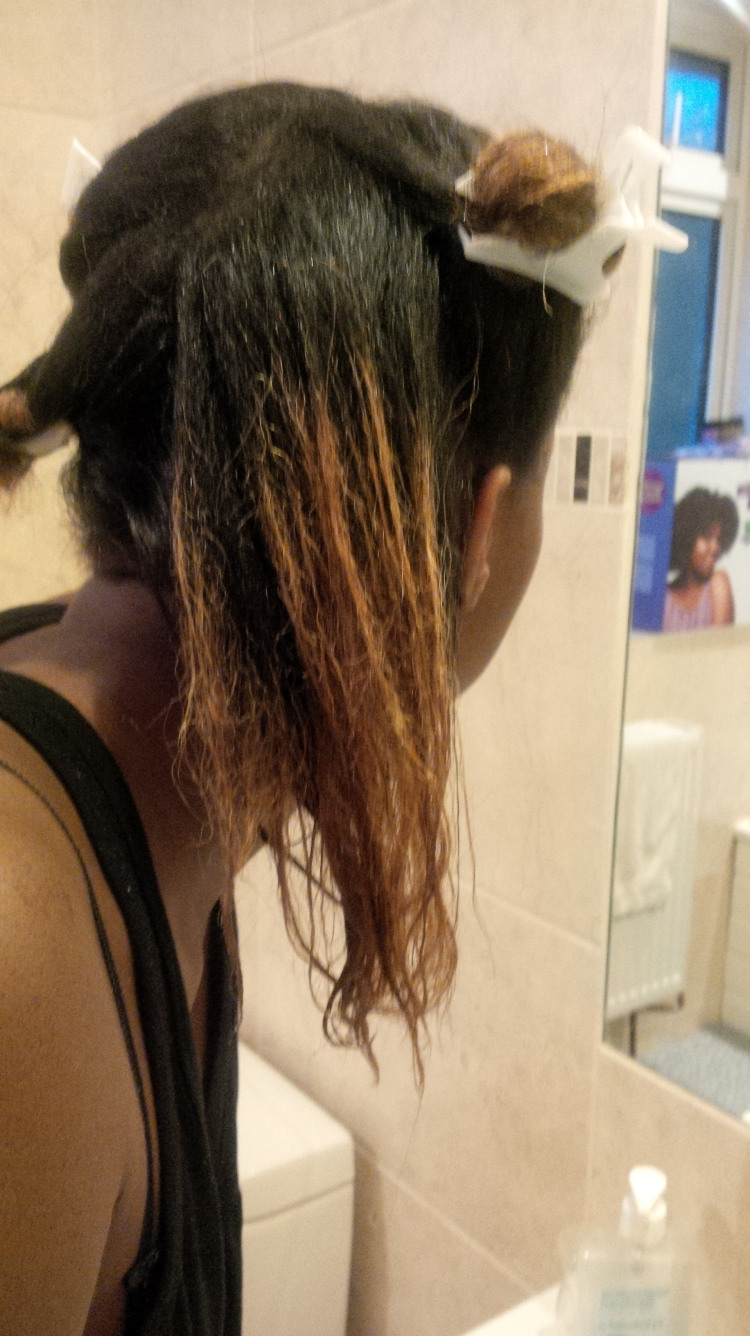 I sectioned my hair into 4 sections and began washing as normal. At first my hair didn't look to be reverting and I started freaking out, fearing the worst! And then this…Grace was back!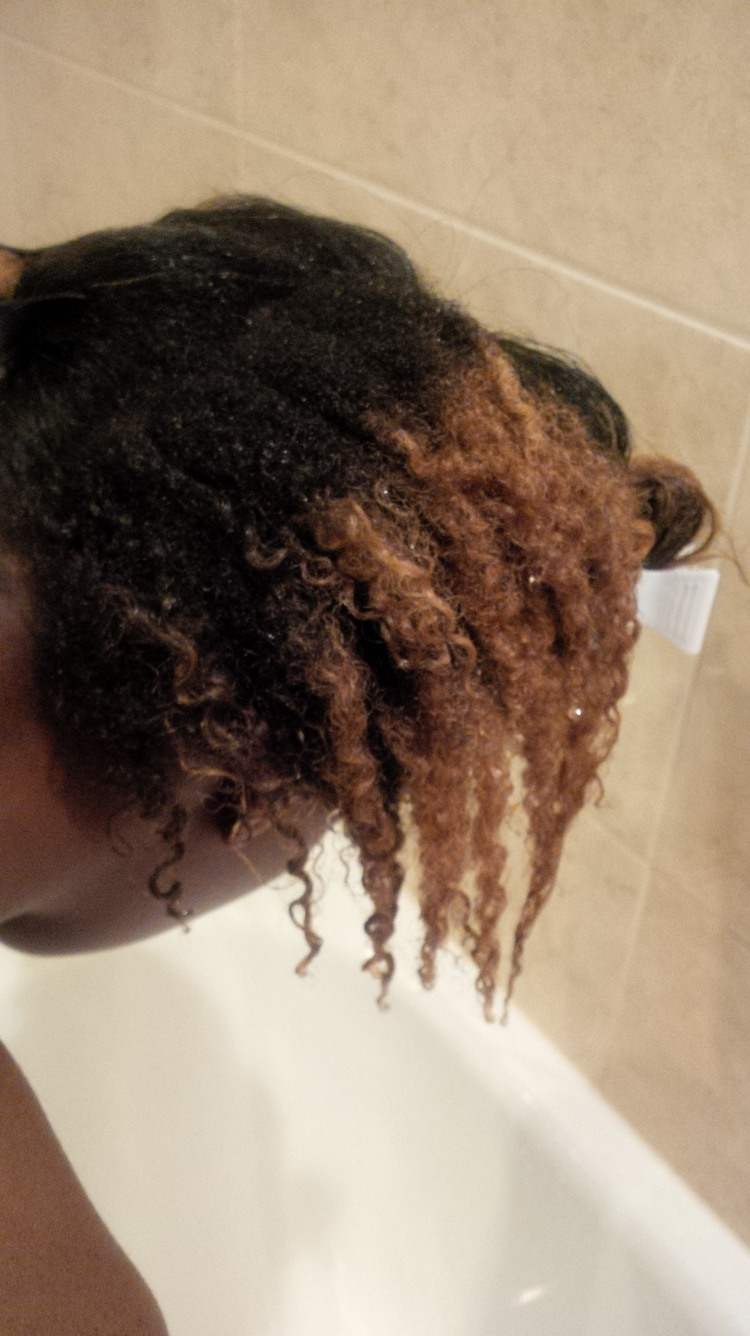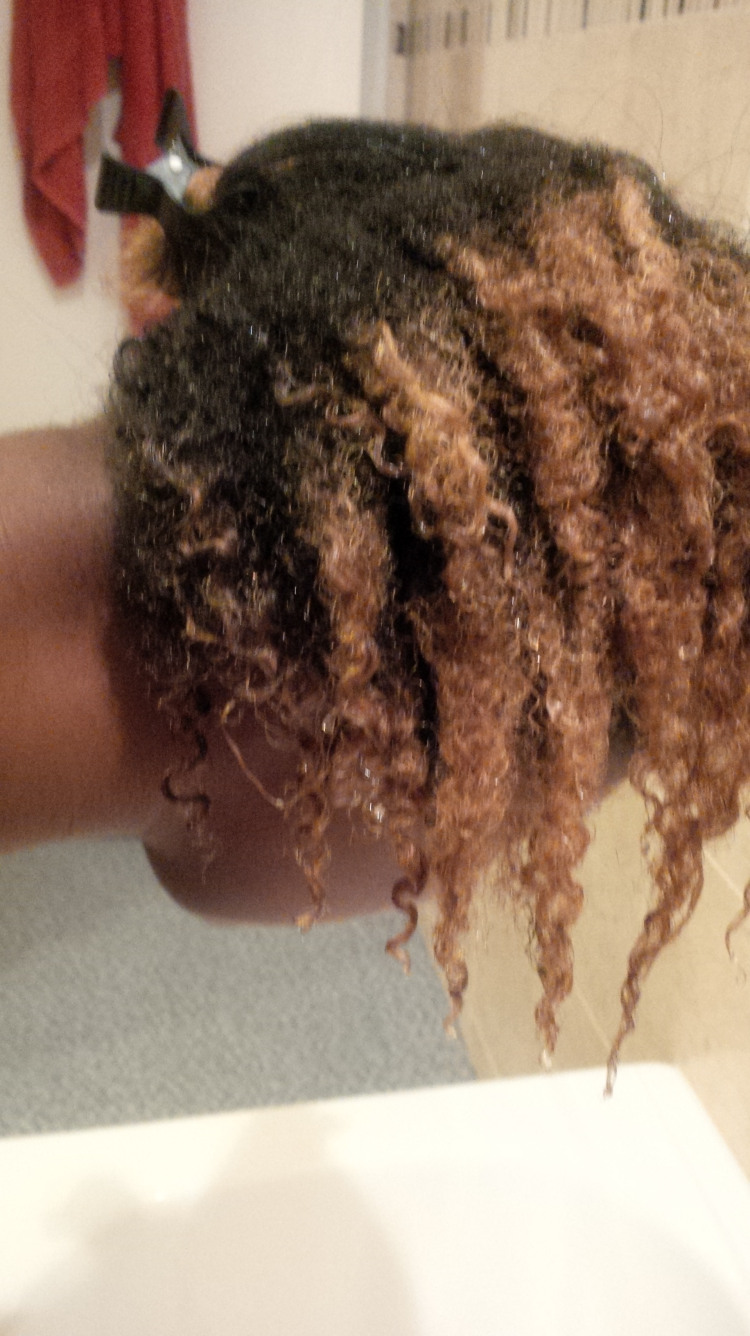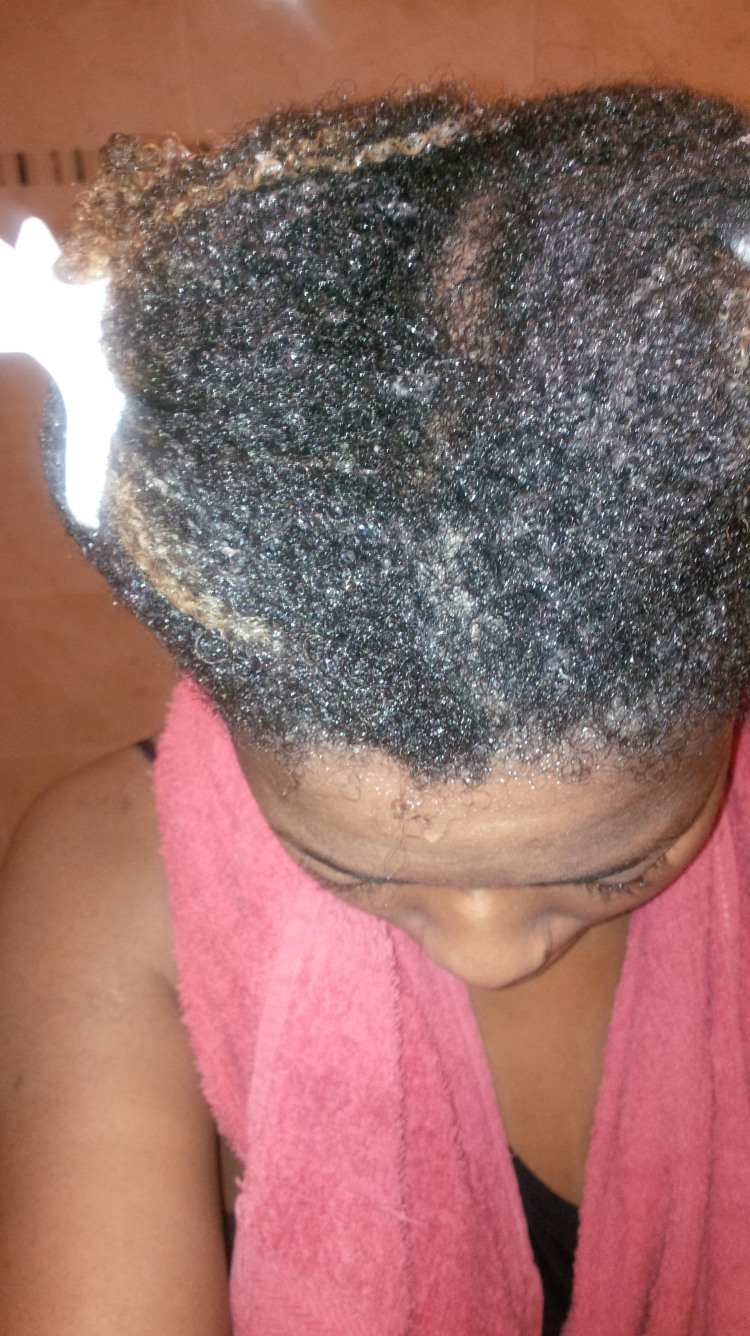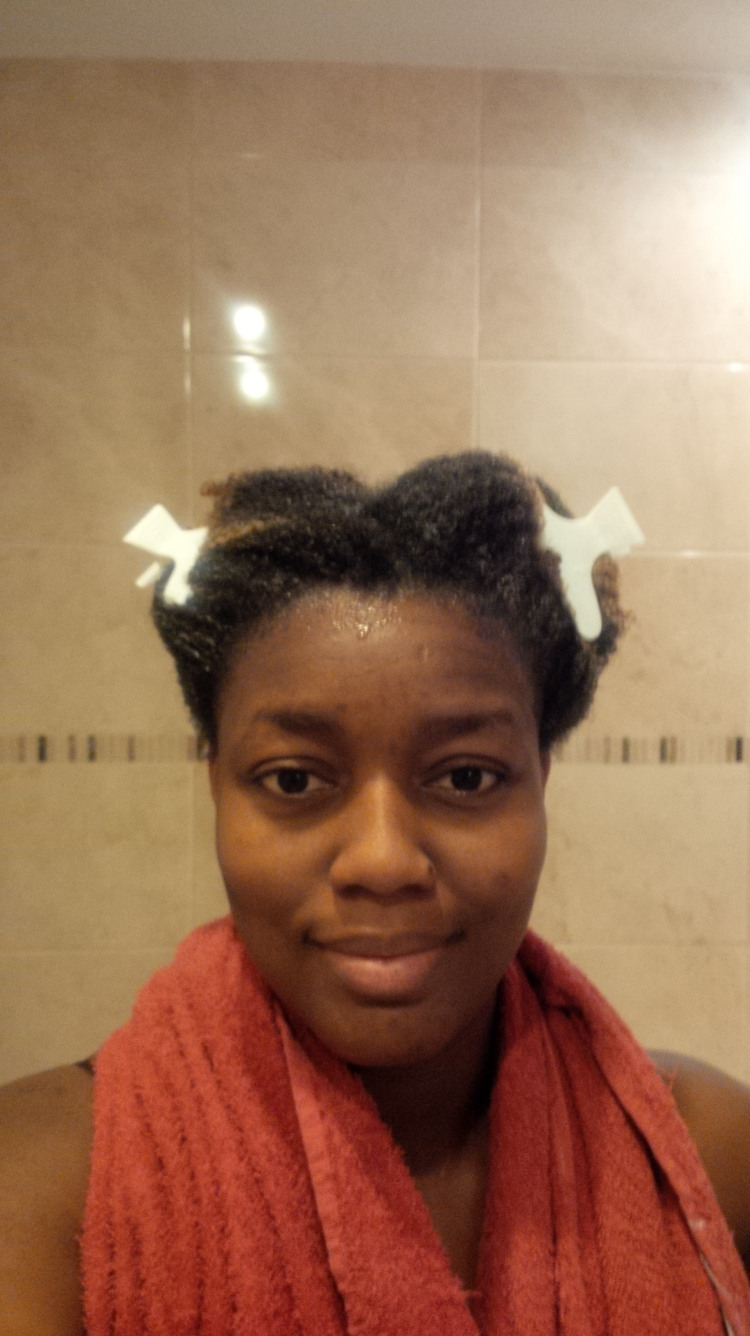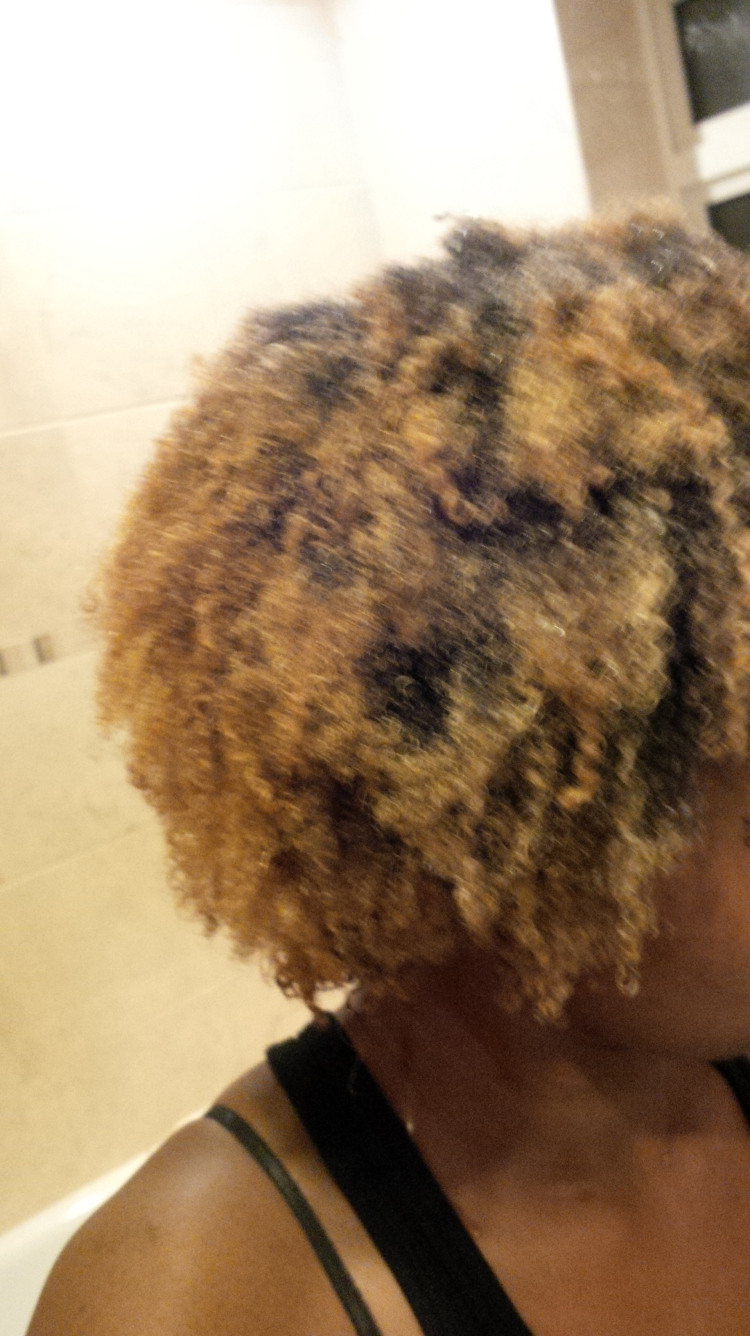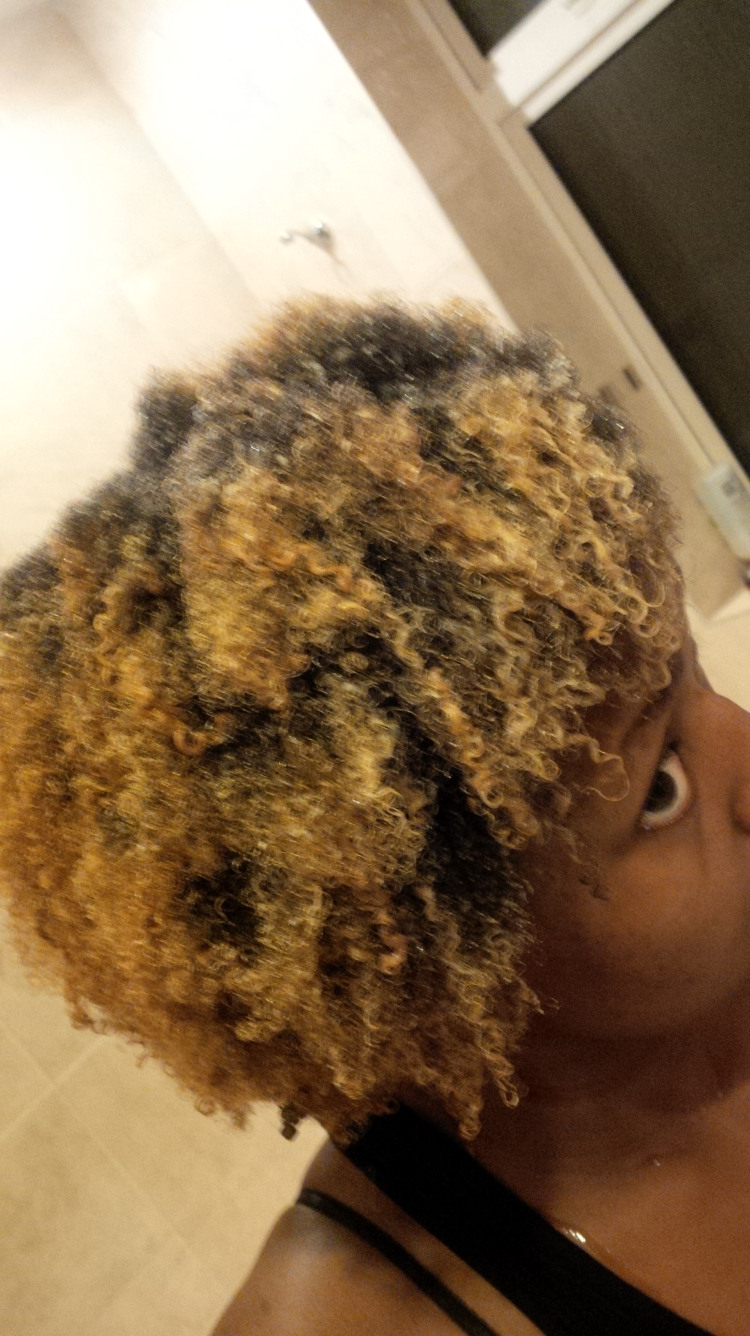 I set up my steamer and steamed my hair for 20 minutes using the Maintenance conditioner. Erm, the steamer was slightly tricky for me to set up. I watched an assembly video as well but in the end I got there and hoped for the best.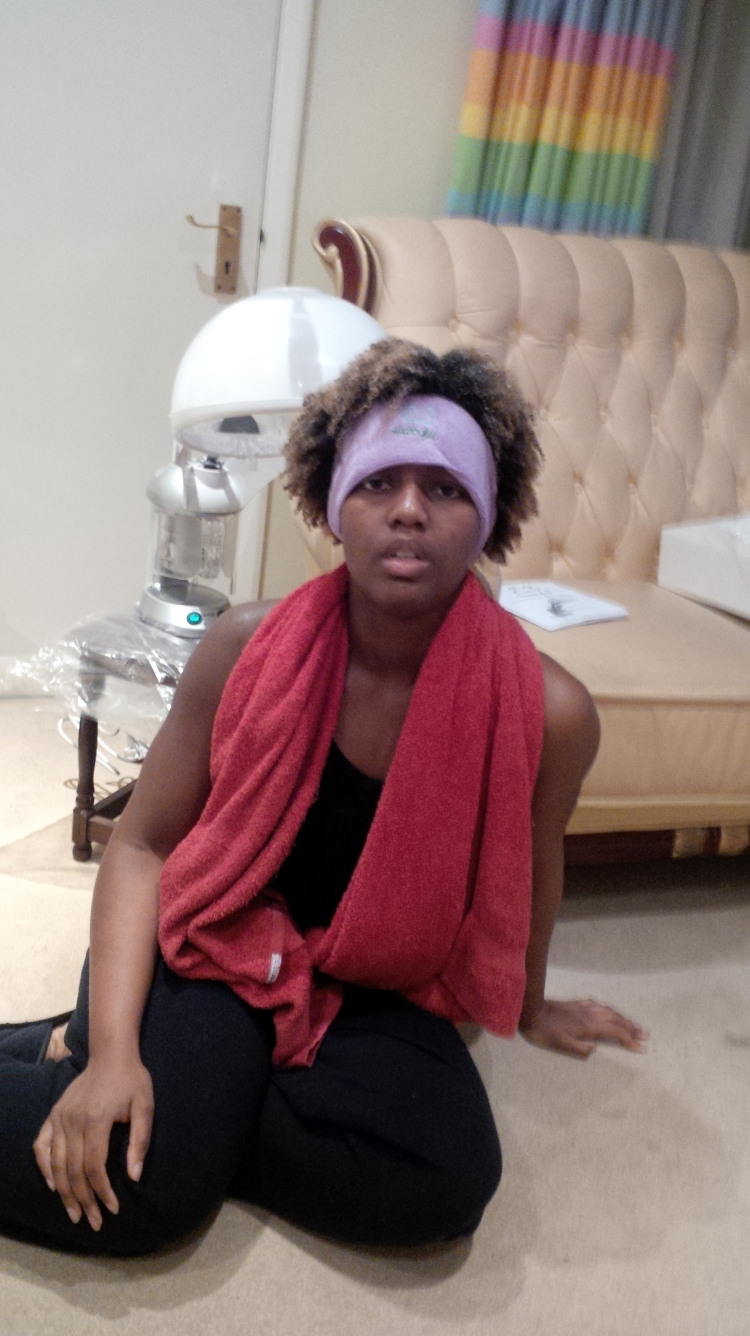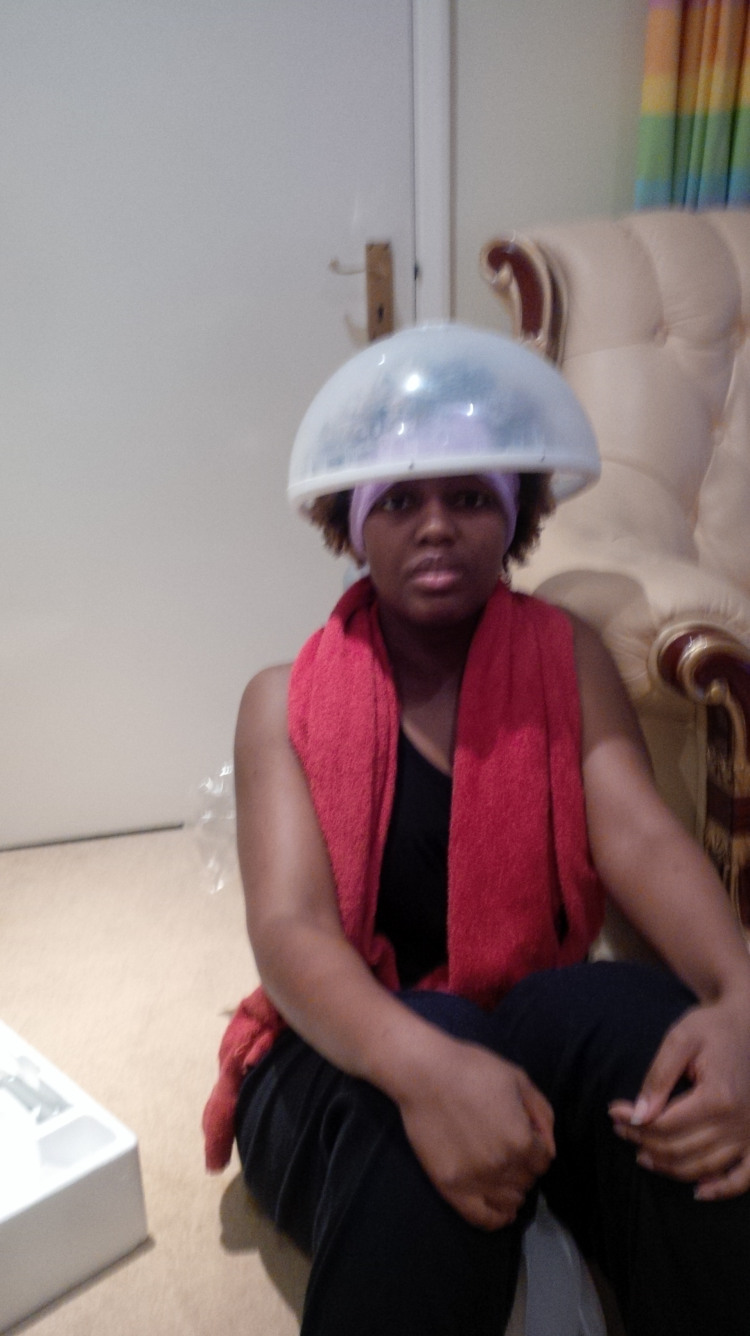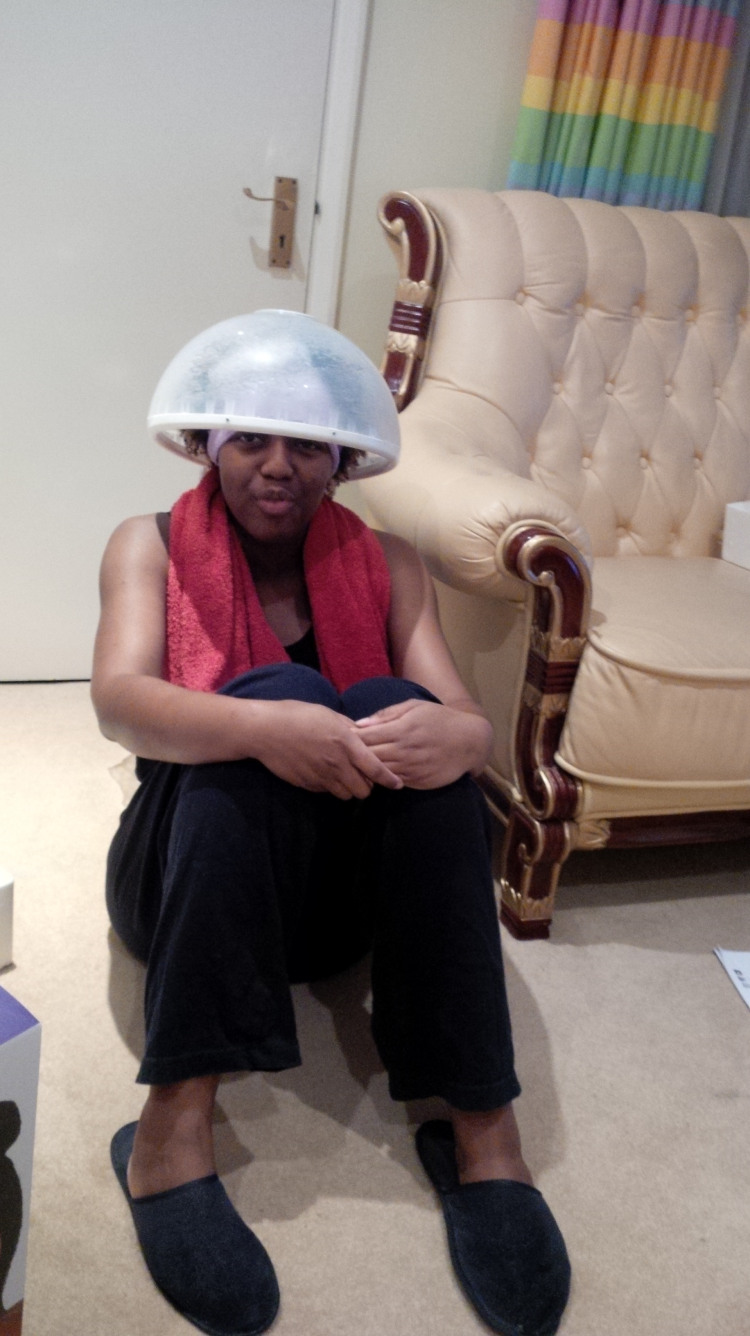 After steaming twice (because I lost about 10 minutes trying to figure out how to sit under the steamer the first time round!), I was ready to rinse out the deep conditioner and then twist. One thing I would mention, with the steamer, as soon as the 20 mins is up it will turn itself off.
Final thoughts:
Nanosmoothing treatment – I liked it. I liked the fact that my hair was straight for as long as I wanted it to be. It did loosen my curls but not drastically so. It's now been over 8 weeks since I got the treatment, and apart from my nape, Grace has virtually reverted back completely to pre-treatment coils. In that respect it IS a temporary treatment, but I will keep you posted on the situation with my nape. Will I get it again? Honestly, I don't know. If I had all the money in the world and was not super paranoid about using heat on my head, I would probably do the treatment about 2 – 3 times a year and wear my hair straight on those occasions. As it is, I don't know if I will do it again soon. It is a very expensive treatment with pricing starting at $175 and I would only do it when I want to wear my hair straight which is not often, about once a year at best. I think I would probably just stick with using the Maintenance conditioner sporadically.
Atlanta Salon – I loved it. Stephanie Lipsey is a gifted hairdresser who takes a genuine interest in her customers and is very knowledgeable. I enjoyed her company and that of Brandi as well (her partner in crime at the salon). I had forgotten what it was like to have a positive salon experience. I'm grateful to them both for making me feel welcome and heard as a natural customer with hangups about salons. I will definitely be heading back there…in May woo woo!!
Steamer – I am loving it. It was a bit tricky to set up (it may just be me that struggled ha!) but once I got underway, I was loving it. I love that it's timed so you don't have to watch the clock. I love that it's easy to dismantle and put away. Once you get using, it's pretty user friendly. I love having my home salon experience. Finally I love that it does what it says. My hair always feels moisturised and soft after steaming.
*Please note that I did not receive any compensation for this review. I paid for the treatment and steamer myself and the only opinions expressed in this post are mine and no-one else's.
Do you have any experience of Huetiful products? Have you been to a salon or had a Huetiful treatment? How was it? Feel free to share in the comments below!