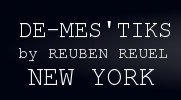 Wow! That's all I can say. I absolutely love this designer! I received two of his dresses as Christmas gifts from my family and I have been in love ever since! Feast your eyes on a few of his gorgeous designs below, including pieces from his new collection:
These pieces are absolutely gorgeous right?! Well the designer, Reuben Reuel, has graciously offered Bids in Graceland readers a $10 discount on purchases for the next 3 days (Discount code is DNY1010). The offer ends at midnight on Friday 31 January 2014 so make sure you bag yourself some goodies in good time.
Click here to visit the shop. Enjoy!