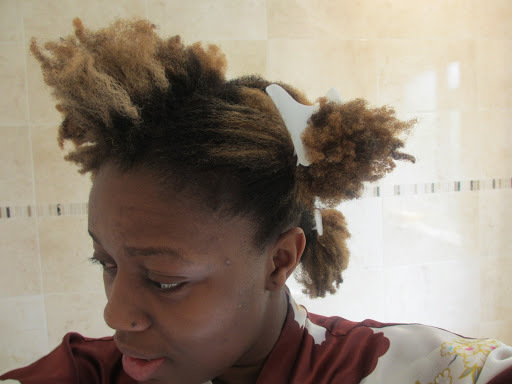 Doing the parts before I get started.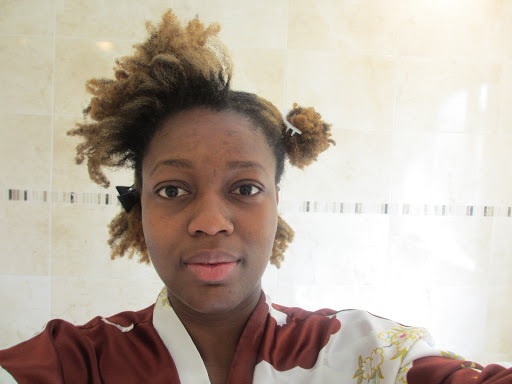 Forgive the bug-eyed look, I had just woken up and come up with this great plan to do this. Also I was a bit stunned by the stench of the vinegar hahaha! Went with 4 parts by the way.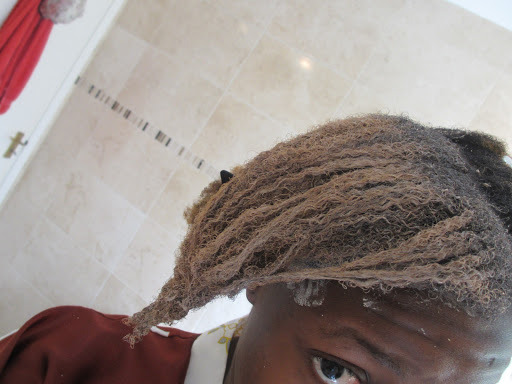 Such a messy affair. I coated my hair with the clay mixture. I really think I definitely added way too much vinegar, so it was very runny, which I don't believe is supposed to happen. Still, I had to keep going, I had already started.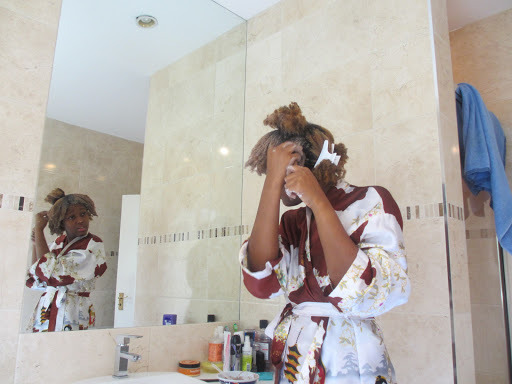 Yep, that's me applying the clay mix. Love to my cousin for taking these shots.
Seriously it was really messy. There was clay EVERYWHERE! I  was not ready for the mess. I was seriously disconcerted.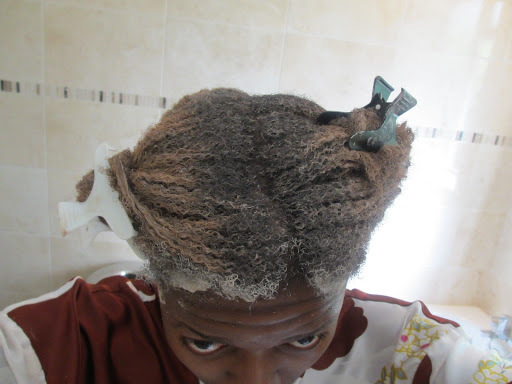 I decided to only go with the top of my head rather than do the whole head. This is because I am quite paranoid about my experimenting with my back hair. Grace is quite soft at the back of my head, almost a…dare I say 4A curl! So I was paranoid that if anything went wrong, my back hair would be suffer the worst of the damage.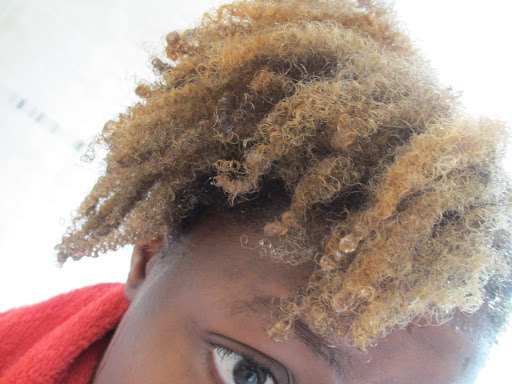 All done and rinsed out…well kind of!
Well I had really been looking forward to trying the Bentonite Clay but sadly it didn't completely work out. I added way too much Apple Cider Vinegar to the clay powder and then I couldn't bear the smell of the Vinegar and was scared of applying it to the back of my head so didn't end up applying the whole mix to the whole of my head.
However, my hair felt so so so soft when I rinsed out the mix, I was in shock. I don't think it did anything for me in terms of definition which is what some naturals rave about Bentonite clay for. But it softened my hair, Grace was so fluffy I couldn't stop playing around with her.
Will I try Bentonite Clay again? Yes for sure. With Apple Cider Vinegar? Maybe, I'm not sure if I can handle the smell. Grace stank of vinegar, not a good look ha! Another try in the near future? Give me and Grace a month to recover from this experience and then we'll talk.