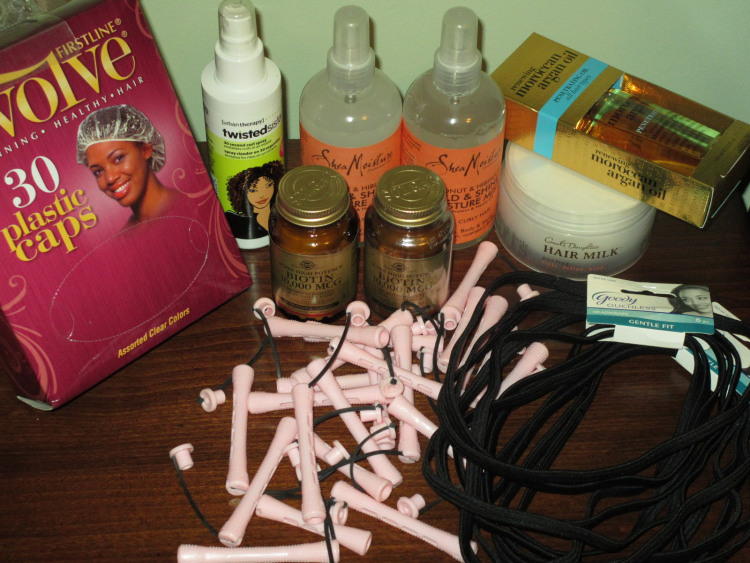 Hi, my name is Bids and I'm a product junkie.
I had a relapse.
I was getting help, being so good and then I went to ATL. The USA is like Mecca for naturalistas so it's no wonder I had a relapse. It was always going to happen. I don't feel so bad now!
Anyhoo, Grace got lots of pressies. I stocked up on my SheaMoisture spritzes, Target was doing a special offer so I got like 4 bottles haha! I also grabbed a jumbo pack of plastic caps  (a girl has to keep on top of her deep conditioning sessions), some satin caps for when I go to sleep (or for those times I don't leave my house let's be honest) and some Goody's hair bands.
I invested in a million perm rods from Sally's and I'm so happy I did because I am already seeing a difference in my twistout results, Grace likes! Target and/or Walgreens was doing a BOGOF offer on the Organix Moroccan argan oil, so again I got like 4 bottles!
There's exciting new stuff. So I picked up from Carol's Daughter the Hair Milk Pudding and Marguerite's magic. I have started using them and I like the results but I will do a proper review which will follow soon.
Then there's the Biotin vitamins. I'm really excited about these – Grace and I are on a growth tip. This is what Wiki has to say about Biotin:
Biotin is necessary for cell growth, the production of fatty acids, and the metabolism of fats and amino acids. It plays a role in the citric acid cycle, which is the process by which biochemical energy is generated during aerobic respiration. Biotin not only assists in various metabolic reactions, but also helps to transfer carbon dioxide. It may also be helpful in maintaining a steady blood sugar level.[3] Biotin is often recommended as a dietary supplement for strengthening hair and nails, though scientific data supporting this usage are weak.[4][5] Nevertheless, biotin is found in many cosmetics and health products for the hair and skin.[
As you can see, there is insufficient scientific evidence to completely verify its effectiveness (although it is a proven fact that Biotin deficiency can lead to alopecia and hair loss), so don't feel pressured to rush out and buy it! The way I see it, every little helps, so I'm willing to try it out and review in a couple of months what effect, if any, the Biotin has had on Grace.
That's it for now! Laters!