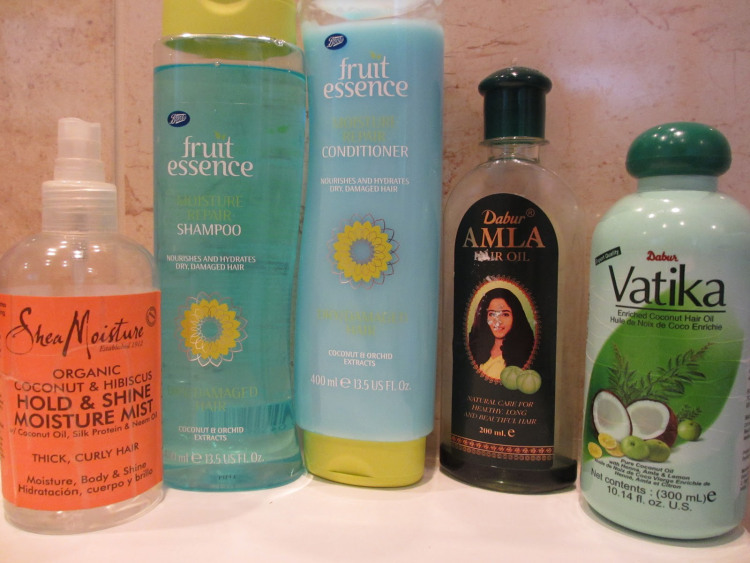 The products
The tools
Grace made a successful bid for freedom from the braids!
Sectioned my hair into four twists before detangling
Finger detangled each section before dividing into two twists. Used a mixture of water, Vatika and amla oils on my hair to aid the detangling process.
Ended up with four twists on each side, 8 twists in total before washing and conditioning my hair.
I washed my hair using the Boots Fruit Essence shampoo. It was alright. I was trying a new method for washing, "the Breakdown" method used by India of MyNaturalSistas' fame (link to videos posted below). I had to shampoo my hair about three times before I felt it was truly clean, and that's not a good thing because of the sulphates in the shampoo. As a result, Grace was squeaky clean by the time I was done but also felt very stripped and straw-like. Not good! I won't write off the shampoo just yet though. I think I am going to modify my shampoo regimen because washing in twists is annoying to say the least.
Following the shampoo, I conditioned with Boots Fruit Essence conditioner. I hate the smell. Really I do. I could not get past it to assess whether it is a good conditioner or not. I hate the smell. Did I say I hate the smell? On a serious note and offensive scents aside, it was alright on my hair, and worked as a detangler but I will not be getting rid of my Herbal Essences and Tresemme conditioners for this, no way, Jose! I think I will probably just give the conditioner away.
Left the conditioner and oils in for a while and chilled out like the DC G I am
Kanye has nothing on me!
Leave in and twisting creme
I applied the KCKT to each twist, detangled once again and then started twisting up my hair. Took a while, I watched Scandal, a friend came over…
One side done…
Whole head finished in the morning.
Yay!
And links to the MyNaturalSistas' Breakdown method are as follows: